To celebrate the book Singing Skies, a collaboration between the Tindersticks Stuart Staples and his wife, painter, Suzanne Osborne, an exhibition of 365 original 'sky paintings' together with Stuarts hand typed lyrics was held in London this month. An acoustic Tindersticks gig, a video installation by acclaimed French director and collaborator Claire Denis, plus a mini-documentary about the process by filmmaker Martin Wallace accompanied the event. Stuart Staples took one minute to speak to Snipe.
Please describe yourself in three words.
Man in France.
What singers inspired you when you started? What ones still do?
It was a great time for singers; John Lydon, Billy McKenzie, Marc Almond, Kevin Rowland, Ian Curtis – so many unique and uncompromising voices. They all still live with me in some way, even if I don't listen to them very often.
What's your favourite Tindersticks lyric?
Some songs continue to fascinate me for a long time. An early song like 'Shes gone' still holds a mystery for me. When I wrote it my feelings about Suzanne and our baby daughter collided, its ultimate meaning is still just out reach. With a more recent song like 'This fire of autumn' from 'the something rain' I am still trying to figure out what it is trying to tell me.
What songs, of yours, are you most proud?
For me, songs are successful when they hold the initial moment of inspiration lightly. 'Marseilles sunshine' is one of them, 'This fire of autumn' another.
What's the strangest gig and / or best gig you've ever played?
Around the time of our first album we had our biggest gig to-date at LA2 on Charing Cross road. To mark the occasion we had asked the Flamenco guitarist from the bar on Hanway St (a late night haunt of ours) to support us – We were hoping for some solo loungey version of 'Strangers in the night' (not that he would turn up with his band and play the rock opera he had been working on for years or that he would come equipped with strong alcohol and quality substances.)
I don't know why Suzanne wasn't there… Anyway, the concert was something, Mark, our bass player, was reading the set list one song behind us and at one point I went down and couldn't get up again. I looked up and saw David, who had abandoned his piano, maniacally shaking maracas, his shirt off and a thick line of his undies hanging over the top of his trousers.
What musically have you learnt recently that surprised you?
It's a good thing to not know what you are doing.
How are the words and visual images in your book with Suzanne Osborn connected?
As I watched Suzanne work, sometimes furiously to catch a moment in a fast-changing sky, at other times, able to explore a sky more static, I was struck by how similar the process was to the writing of my songs. I felt they belonged together.
How did you come to work with Claire Denis, (director of Trouble Everyday)?
We were happy to be chosen by her. It expanded my understanding of Claire Denis films, for sure.
Who is the most famous or surprising person to come to a Tindersticks gig?
Ace of bass, The mayor of Ypres (front row, with sash), Tom Ford, Epic Soundtracks, David Byrne, A-ha, Vaclav Havel, Alain Bashung, etc.
What's the best advice you ever had?
Take it easy, it's not a race.
What do you love and hate most about London?
It smells of pies and pasties.
Singing Skies is released in hardback in a limited first edition of 2500 copies and is available from all good bookshops as well as Amazon from 28 November.
Critically acclaimed and winner of two SXSW awards – Short Term 12 – is Destin Daniel Cretton's debut feature, telling the story of Grace (Brie Larson), a leader in a US foster-care home.
Please describe yourself in 3 words.
Laidback, Pineapple, Warmwater.
What inspired you to become a filmmaker?
Watching Innerspace in 1987, the first film I saw in a movie theatre in Maui, Hawaii, where I grew up.
What was your path?
A very long one. I didn't know I wanted to do this until I graduated from college and then I started making shorts, and got addicted.
What was Short Term 12's origin?
It's taken from my first job out of college. I worked at a home for at-risk teenagers for about 2 years and that experience stuck with me. 3 years later I started making a short film about it.
What was your best experience?
Actually it's scene that got cut from the movie, a therapy scene featuring Grace (played by Brie Larson). In the movie there's about 40 seconds of it, but it was actually 10 minutes long when we shot it and it was one of the most emotionally powerful experiences I've had as a director. Brie and I looked at it as something we had to go through, in order to inform a lot of other things that happen in the movie.
Once we got to that part [in editing] it wasn't needed because you already knew so much from the story being told. As beautiful as it is, it's a great DVD extra. [Laughs]. We were constantly seeing what we could get rid of: in writing, in performance, and editing. Seeing how little we needed, in order to convey the story and always asking "is this too much?". I learned a lot.
Your influences on this movie?
It's hard to say. Filmmaking is a hard thing to learn and I'll probably continue to learn for the rest of my life. Everything about making movies means you want to show off, you want to show people your art, or that you can come up with a cool shot, but we had to approach it as selflessly as possible and thank goodness that managed to happen.
Best advice you ever got?
Not to believe in most of the advice that people give you. Most of the time it's right for them, but not for you.
What do you love and hate most about London?
I love the history, I hate the traffic, I love the tube here.
What's next?
A beautiful and tragic snapshot of one of the most interesting American families, basically exploring the balance of s_ and beauty that every human experience has.
Last chance: did you really mean to say Innerspace?
Oh yeah! But I was raised on blockbusters, there was no independent cinema in the Hawaiian islands as a kid. Movie making is all about magic tricks. Whether you're making a small indie drama set in a foster home, or it's Martin Short flying around in a little spaceship inside a human body. You're still trying to trick people into believing in a world you're creating.
Short Term 12 is on general release this November. Read more on the film's own website and Facebook
Image of Destin Daniel Cretton Copyright Gavin Mecaniques.
Snipe talks to the guitar virtuoso, now residing in Japan.
Featuring original and reworked portraits of Pussy Riot, Patti Smith, Bjork, Yoko Ono and Kate Moss, photographer Kate Garner's new show "Warrior Women" opens at the Zebra One Gallery this month.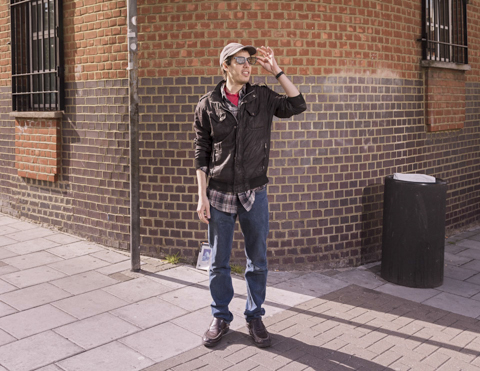 Meeting Mark E. Smiths mum, playing in donut shops and learning "real" guitar solos: New York singer-songwriter Jeffrey Lewis played 5 shows, in 2 days, at the Brixton Windmill, where he spoke to Snipe.
What's the strangest show you've done? I usually think of the time I played on top of a bathroom with Tony Green in a tiny place called Voodoo Donut in Portland Oregon. It has since moved to a larger location, but in the old location there was about a 3-foot crawl space between the roof of the bathroom and the ceiling, where the two of us hunched and passed a guitar back and forth. About 4 people could fit in the donut shop total, so sometimes we had a "crowd" of 3 or 4 people who were coming in to buy donuts and lingered for a song or two.
What songs, of yours, are you most proud of? I really like Heavy Heart, it says a lot in a very short time with a very few words. It was one of the earliest songs I wrote that I still play, I don't think I could write something like that again. I'm also very proud of the French Revolution piece (a spoken-word film & comic book work) – it seemed impossible to do at first, but I worked very hard on it and I ended up with a really good one.
Who is the most famous or surprising person to come to a Jeffrey Lewis show? Mark E. Smith's mom was at our gig in London when we opened for the Fall in 2004 or 2005, we chatted to her a bit before the show.
What singers inspired you when you started? What ones still do? When I started in the late 90s I was heavily into Pearls Before Swine records, so I admired that kind of sparse delivery of music and vocals from Tom Rapp; I was also very inspired by Daniel Johnston of course for his directness, and Ira Kaplan of Yo La Tengo, also for a very direct and natural sounding delivery. I've widened my range and interests since then, but I'm still drawn to that sort of disarming, informal, conversational singing. Lou Reed is certainly an all-time idol, I have every album he's ever made. I like when someone's voice is not a barrier between singer and listener, but a direct conduit, without any fancy stuff blocking up the works.
What songs and lyrics impress you? The Seventh Seal by Scott Walker and The Ballad of Tom Joad by Woody Guthrie are two of my favorite songs, and both were based on movies, which is strange. Both songs are, to me, better than the films they were based on (though both are good films too). For impressive lyrics I just heard this amazing Eminem line: "I'm gonna introduce you to my power tools/ You know the drill…"
What musically have you learnt recently that surprised you? That I can play a bit more of a "real" guitar solo than I thought, not much better than any 15 year old who plays guitar solos with friends in a basement, but I have learned that after about 12 years of doing this I can now actually play a guitar solo that is made out of notes and not just noises.
You wrote your literary thesis on Alan Moore's "The Watchmen". How was that, and did you like the film? I had a few different things to focus on, rather than one overall focus, and I keep re-writing and re-editing the whole thing, eventually I hope to have it available in some form. I thought the film could have been a lot worse, obviously Watchmen is one of the greatest comic books of all time and the film is far from being one of the greatest. But it was the best anybody's done so far in attempting to adapt any of Alan Moore's books to the screen, which is a questionable activity in the first place.
What you do love and hate most about London? I love the smells everywhere, but I hate the stupid design of the public transportation; riders on the tube practically have their knees touching the person across from them, there's really no room for people with luggage or baby strollers.
What's next for Jeffrey Lewis? Can you recommend something for us? The great new album "Hey Hey it's… The Jeffrey Lewis & Peter Stampfel Band"! I'm quite happy with it.
Jeffrey Lewis is great.: Go see him and buy his records.
All images copyright Gavin Mecaniques
Resurrection woman Melissa Ann Sweat on inner revelations, the importance of 'me time' and rocking out to Youth Lagoon.
Winning Swedish duo Sally Shapiro (producer Johan Agebjörn and vocalist Shapiro), release their long awaited third album tomorrow …