Adam Bienkov | Thursday 23 May, 2013 16:15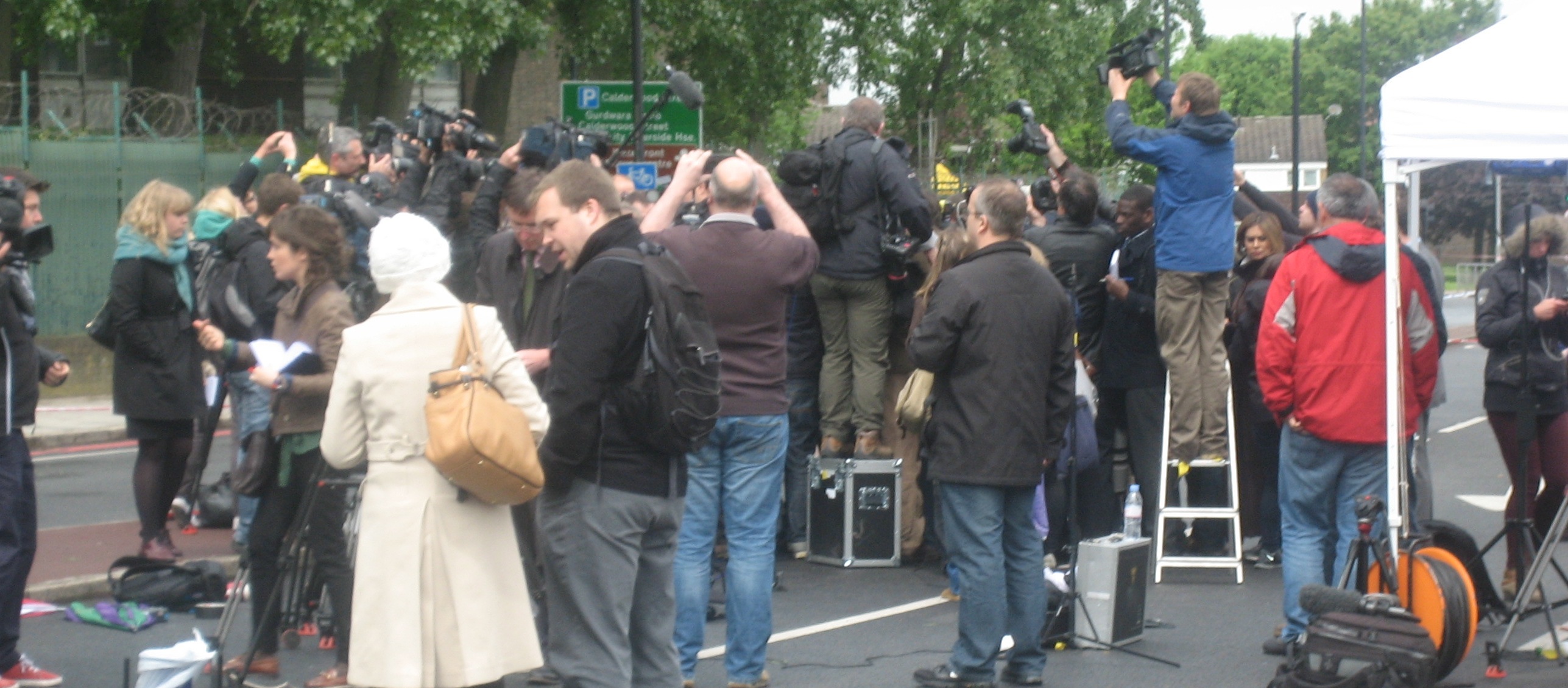 "There's so much killing around here" said the elderly Jamaican guy standing next to me outside Woolwich Town Hall. "It's getting worse and worse."
"I came here in the sixties. I was a chippy working in Thamesmead. Things have changed so much. There aren't any British people no more. These last ten years, they built that DLR and now there's all kinds of people that weren't here before."
Inside the Prime Minister and Mayor of London had come to talk to "community leaders" about the dreadful events of yesterday.
Exactly who those "community leaders" were wasn't clear, but outside on the street the real community of Woolwich were in shock.
"It is so horrible, No words can describe it" said one smartly dressed man to me in an African accent. "Taking another man's life is the greatest sin."
Some local people came to lay flowers. Others came simply to use the library, only to be held back by police.
One man told me he had seen one of the suspects preaching in the High Street. Others said that both men were known by police.
But the striking thing was that of all the people I spoke to today, not one mentioned terrorism or religion. Instead they all spoke of the wider issues of knife and gun violence in the area.
"It's only because of the beheading that there are all these people here" one told me. "There's been lots of stabbings and shootings around here but nobody's seen anything like this before. It's unbelievable."
Those who came to watch mostly stood silent. There was little obvious anger here.
Yet among the crowd a tiny handful of EDL supporters had come to cause trouble. Later they would tell reporters about a "race riot" that was on it's way to Woolwich.
But if there was a race riot on it's way, then it was nowhere to be seen in Woolwich this morning.
Instead most people were simply getting on with their day. Trying to get on with their lives as the politicians and the press, whisked in and out of town.
It's been a grim couple of years for Woolwich since the riots of 2011, but lately things have started to look up.
A new town square, the Woolwich Centre and now Crossrail are bringing badly needed investment into this neglected part of London.
The big fear is that that the savage acts of two men will undermine this and come to define Woolwich in the same way that the savage murder of Stephen Lawrence came to define Eltham.
As somebody who lives in the area I desperately hope that isn't the case. And I don't believe that it will be.
I can remember three years ago feeling like the riots had broken the heart of London, but it didn't turn out like that.
Cities have short memories. Before long, today's front pages will be pulped and the satellite trucks will move on to another tragedy in another town. The people of Woolwich will move on as well.
---