The Appropriate Behaviour director on bisexuality, cultural identity, Brooklyn vs East London, and getting a real job
Kathryn Bromwich | Monday 2 March, 2015 08:10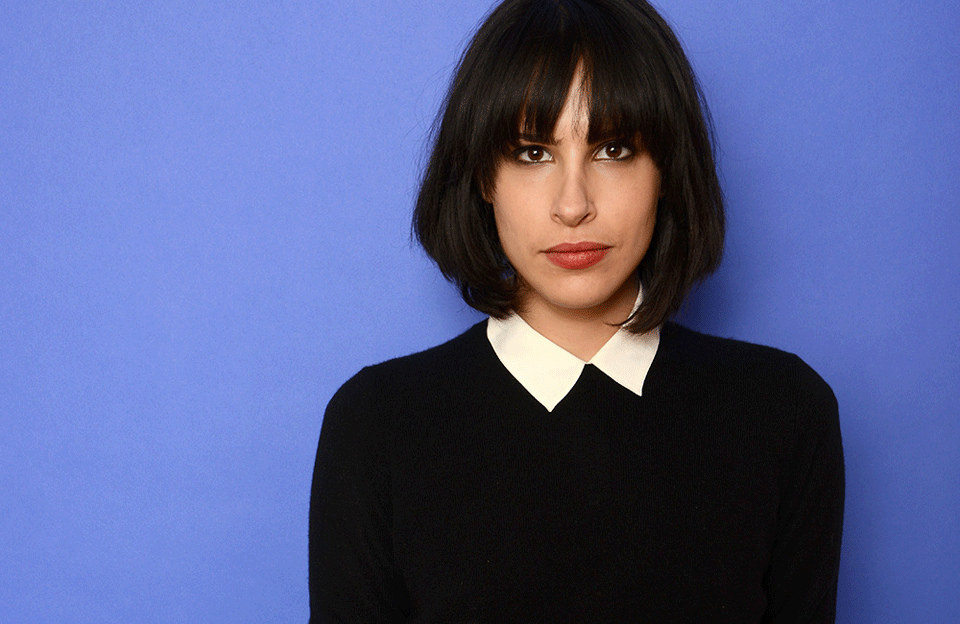 Desiree Akhavan was born in New York to Iranian parents. In 2010 she created internet series The Slope with her then-girlfriend Ingrid Jungermann, and wrote and directed the short film Nose Job. Akhavan is currently appearing in the fourth series of Girls on Sky Atlantic. Her debut feature Appropriate Behaviour, which follows protagonist Shirin as she comes to terms with her bisexuality and cultural identity, is out on March 6th.
The film feels very honest and autobiographical. How much does it draw on your own experiences?
In terms of character I think there are lots of distinctions between myself and Shirin – I wanted to make this a heightened, ridiculous version of my best and worst traits. I've never walked down the street carrying a strap-on – yet. It might happen in the future, I make no promises. Story-wise, the events in the film haven't taken place. But it is incredibly personal: it was my response to having recently come out to my family and dealing with a break-up. So I wanted to tackle the themes, but make a narrative that was compelling for 90 minutes. Using actual events from my life would have been pretty boring. 
What's it like seeing your life recreated on a big screen?
I feel pretty distant from it actually, so I never hit that surreal moment of weirdness. It's more of a collaborative professional endeavour than a diary entry. If I had seen it as my life I would never have been able to make it – I would have been too precious with it, it would feel too secret. 
Are your characters based on real people?
I have a tendency to take notes every day on people I meet or things I see, and all of them go into the different characters in my film. I love observing people's weird habits. It's rare that one person is one character – although the brother in the film is very much inspired by my own brother. I take crazy liberties. 
What do you look out for when observing people?
Things that evoke any kind of emotion out of me, so if I'm on the subway and I'm made to feel anything – be it disgust or joy – I tend to hold on to that. I have very visceral emotional reactions to most things I interact with, which is a blessing and a curse. This morning someone was getting in my way when I was trying to pour myself some water, and I was feeling very emotional about that.

In the film Shirin comes out to her Iranian family as bisexual. How was that for you in real life? 
The film was a response to my dealing with it, but I wouldn't say it's a depiction of what I experienced. I don't actually like to talk about my story, because it's mine, and there's so few things that are sacred to me right now, especially since my work is so personal. But it was really hard – it was painful and emotional and took many years for me and my family to work through. Fortunately they're incredibly supportive and proud of the film, but it was a really long journey.
Do you feel you can now go back to Iran now, considering the death penalty there for homosexuality?
Oh no, I definitely cannot go back to Iran. It's way too dangerous. I haven't been since I came out. For me to return it would have to be safe, and at the moment it's not. So unless there were some very dramatic regime changes out there, which I hope will happen, and I have confidence that one day it could happen…
Did you go to Iran a lot when you were younger?
Yeah, I would go to see my family – my grandmother lives there, my cousins and my uncle. My grandmother comes to America to visit every few years so I see her then.
Your show The Slope is a web series. How much has the internet changed things for aspiring film-makers?
Drastically. If it weren't for The Slope I wouldn't have been able to make this film. Before that I made several short films that I would send in to film festivals and they were all rejected. One year I applied to 30 festivals, I spent $1,000 just sending out my work and having it all be rejected one by one. After that experience I thought, I can't go through this again, so I just made a web series and put it online.
How did you publicise the show?
I think word-of-mouth was the main way that people found it, but when we first put it online, we e-blasted out to as many relevant blogs as possible – women's issues blogs, comedy blogs, LGBT sites. And maybe one or two would pick it up each time that we'd send out 100 emails. But then people would tell their friends, and they would tell their friends, and it started to grow. Two years after we created it we were invited to the White House for their LGBT reception. 
If all this hadn't gone well, do you know what you would be doing now?
I have no idea. No idea. I would probably have made a short film to get into film school, and right now I would be serving coffee somewhere. I have no skills, zero experience. I shouldn't say that actually – there are some really incredible baristas in New York, it's become an art-form. So I would probably not be able to have that job. Maybe I'd be a nanny.
There have been quite a few stories recently about direction-less mid-twenties creative women in Brooklyn – Girls, Frances Ha, this. How long do you think it's going to last?
I don't know about "in Brooklyn" specifically, but I will say that the world has never tired of stories of men in their twenties trying to figure it out. So I don't understand why it's such a phenomenon that women having a difficulty growing up is such a luxury, why it's so indulgent that we have these stories of women, and when is this phase going to end. They're human stories and we've just allowed for women to be a part of the conversation.
Brooklyn has a weird Zeitgeisty energy right now – there are a lot of people who have moved there. I have no idea of those narratives being relevant in the next 5-10 years, but I do think we've entered an age where it's ok for women to be just as self-involved and confused as any other male protagonist. There has been no stop of curmudgeonly, self-indulgent, super-unhappy male characters. It's so funny to me when I get that question, because it's absurd to people for women to be as indulgent as I've seen men be forever.
Women are just meant to be perfect and…
…yeah, just really want to get married. 
You're in London now – do you know it at all?
Yes, I moved here nine years ago, I did a year abroad at Queen Mary's.
So I guess you're familiar with East London…
M-hm. I lived in Mile End.
Do you see any parallels between Brooklyn and East London?
Yeah – I was in Hackney yesterday for a screening, and everybody looked like a model out of Brooklyn magazine. It was very impressive. 
What can you tell us about the new season of Girls? I hear you play a writer who wears loads of black eyeliner…
Ha ha, yes, I play a classmate of Hannah [Horvath]'s at the Iowa Writers' Workshop. I have no idea what else I'm allowed to say about it, but I do wear a lot of eyeliner and I think my character's a bit pretentious. 
What kind of direction do you see your work going in in the future?
I'd very much like to work in television. I am right now in the process of developing a series, and that's where my head is at. I have two other features also in various stages of development. But the experience of working on Girls was incredible – and watching the way that environment was so collaborative, and for such a long period of time. We really had time to sink our teeth into the characters and into the world – something you just don't have in indie film in the States. So that's a transition I'd love to make. 
What can you tell us about this show you're planning?
Well, it's not made yet, but it would be a bisexual dating comedy. I just took it to the Sundance Lab actually – they have this episodic storytelling lab where they workshop television series. 
What was the response like?
Oh, really positive. It felt like, this is the time.
Appropriate Behaviour opens 6 March.
---