Darren Atwater | Wednesday 14 December, 2011 11:31
The independent Scottish brewery Brewdog invited Snipe along with a few dozen other London food writers to a tasting and a creepy rant last night.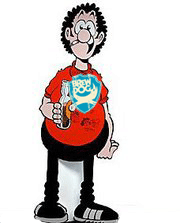 The location was the new Brewdog Camden pub, where founders James Watt and Martin Dickie planned to treat the assembled with a tasting of their beers and entertain us with the story of their four-year existence. That's when it got creepy.
Watt encouraged us to talk to our beer, yes, out loud, to encourage it to 'open up.' He then gestured to one of the female servers and said that this is what he would do if he wanted her to 'open up.' Weird – but easily brushed away as a poor choice of words. He's speaking off the cuff, with a beer in his hand, and presumably meant that he wanted the server to feel comfortable and share her thoughts.
Then Watt told us of he and Dickie's experience at some young entrepreneur's award interview. This 'feminist,' he complained, was upset at the portrayal of women in their marketing material, including the fetishisation of lesbians. Watt did not use the word fetishisation.
A feminist quizzed us on the appropriateness of calling a beer 'Trashy Blonde' and using the word 'lesbian' in some of our promotional material. To which Martin responded;
'I have nothing against lesbians at all, in fact I have some DVDs at home of just lesbians'. It went down like a lead balloon and we did not win this award.
I don't recall if that's the exact quote or not – but close enough, it's a cut and paste from the Brewdog blog.
Here's the kind of marketing material that dirty feminist was speaking of:
"A titillating, neurotic, peroxide, punk of a pale ale. Combining attitude, style, substance and a little bit of low self esteem for good measure; what would your mother say?

You really should just leave it alone…

…but you just can't get the compulsive malt body and gorgeous dirty blonde colour out of your head. The seductive lure of the sassy passion fruit hop proves too much to resist. All that is even before we get onto the fact that there are no additives preservatives, pasteurization or strings attached.

All wrapped up with the customary BrewDog bite and imaginative twist. This trashy blonde is going to get you into a lot of trouble."
(From A FemALE View)
And it wasn't a one off, this we're-a-couple-of-losers-who-made-good schtick is a regular part of the show. They've told the same anecdote over and over to other audiences.
In the end, Brewdog's 'Beer for Punks' is mere branding, as manufactured as their mid-90s David Carson aesthetic.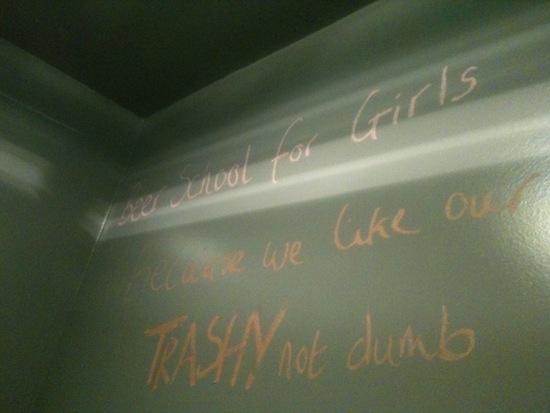 Beer school for girls: because we like our blondes trashy, not dumb
Update As we filed out, Tim 'Masterchef' Anderson appeared in the doorway, handing out pizza. Surreal.
---