Laura Snapes | Saturday 3 July, 2010 14:50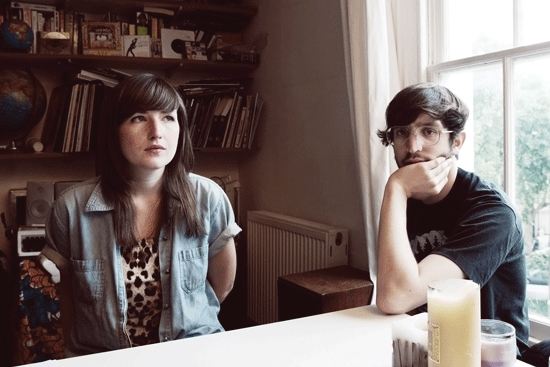 Eight months ago, NME hack Elizabeth Sankey and acoustic troubadour Jeremy Warmsley sat with a PR company to discuss Summer Camp's mission to rip the blogosphere a new one. "Stay anonymous," said one exec, twirling his moustache. "Even if you're terrible, bloggers will be salivating to be the first to unveil your true identities."
"Elizabeth, ring your hack friends to get the buzz going," added another. "We've already got ultra-trendy blog Transparent to write that career-defining first post, and some false leads on your identities: a collab between the chick from The Concretes and Jens Lekman, or a breakaway faction of I'm From Barcelona – Sweden is so hot this year."
At least, that's the sordid tale of events that cynical bloggers would like to believe, suspicious that Summer Camp could arrive so perfectly formed with their sparkling Shangri-La harmonies and electrifyingly languid beats.
"I'd certainly do everything I could to avoid going back to being the guy with the acoustic guitar," says Jeremy, wincing at the "troubadour" tag. "I don't really like music that's just one man and a guitar, to be honest. There, the cat's out of the bag!"
"Someone asked if I thought it was a conflict of interests to be a music journalist, but I don't think I am one," adds Elizabeth. "I was only writing about bands for four months before we started Summer Camp. We could've used our contacts, but I don't think any of our friends would have been into it!"
If anything, the only reason to fib about their origins would be to disguise how accidental they really were: Elizabeth put The Flamingos' cover of 'I Only Have Eyes For You' on a mixtape for Jeremy, then they spent a weekend recording their own version. They adopted MySpace's randomly offered location of Dalarnas län as their hometown to lessen the chances of being rumbled by their friends. But a day later, Sahil Varma of influential blog/label Transparent stumbled across them, and, charmed, asked if they could release a 7".
"They had virtually no plays," says Sahil. "I became obsessed with their perfectly captured nostalgia and swooning pop melodies, which never came across as pastiche. We asked to do the single, but unfortunately weren't quite as big as Moshi who eventually released 'Ghost Train'.
"I really wanted to do it," says Elizabeth on taking it seriously. "At first, we weren't thinking we'd play live and that we'd stay anonymous, but after the offer of a single we reconsidered. That's when it got difficult – we were stuck with this secret and hadn't worked out how to tell people, and we had to work out the live set-up."
They also had to rethink their day jobs. At the time, Elizabeth was editor of youth webzine, Platform (she's since left), and after a fallow period, Jeremy had abandoned his solo career to start a band called Acres Acres.
"That was my main focus before we started Summer Camp," he explains. "It was me and some friends. It was going quite well – we'd done a demo, talked to a few managers. But then Yoko here came along," he jokes, nodding at Elizabeth, "It's one of those things – the more self-consciously you plan something, the less likely it is to work out."
"I wanted to be an actress my whole life," says Elizabeth, mock outraged, "and it's so ironic that after trying to do that for so many years, something I never thought I'd do is happening, and much quicker."
What started as a pleasure project suddenly got derailed by the breakneck speed of blog culture. An early trip to a label HQ turned out to be the embarrassing reveal to an office bet on their identities, and when asked by NME's new bands editor to interview Summer Camp for their magazine debut, Elizabeth had to admit it was her.
Having achieved notoriety online, the chance to cut their teeth on the toilet circuit before being subject to industry scrutiny was snatched away, so they snuck onto dark London stages to trial run their shows in public. When word escaped of a matinee set in Notting Hill this March, anticipation was astronomical, and Elizabeth, who had only ever sung live as part of her drama degree, was uneasy.
"I'm quite controlling, so putting myself in a strange situation I didn't know if I'd go crazy, forget all my songs or freak out and jump offstage. The pressure's huge – there are so many new bands that you have to abandon some of them. And it can be hard to support bands when they've been hyped up so much – you're gonna want to be the one who says it's rubbish to be a bit different."
Unfortunately for the naysayers, it's Summer Camp who are a bit different. These days, there's a never-ending flow of lo/bro/glo-fi bands tripping on nostalgia, and it's hardly news that most of them aren't doing anything new, taking their influences – whether The Smiths or Link Wray – and dumbing them down, interpreting naivety as reduction of intelligence and an excuse for sloppy musicianship.
Summer Camp aren't like that. There's no mistaking their love of nostalgia for complacent wallowing; their influences might be old – John Hughes films and classic tales of girl-meets-boy – but the world they've created is enticing, making new to younger listeners this halcyon '80s world they never experienced. Given that they've only been touring for four months, they're revelatory live – from the climbing acapella girl/boy harmonies that ignite 'It's Summer' to the should-be-cheesy-but-somehow-brilliant key changes in '1988', their swan song for the '80s Midwestern proms they never went to on account of being English infants. Like Hughes, they've captured the ephemerality of Kodak-tinged idealised teenage years – one where summers last forever and cads can break your heart in one fell swoop, but where dancing all night will make everything perfect again.
"It's really odd to be doing this every single day now," muses Elizabeth, "and to be putting yourself into a world that you never even considered entering." One dose of Summer Camp's pitch perfect nostalgia, and you'll never consider leaving.
---
A ludicrously over-the-top length of fawning and poorly constructed sixth form hype, delivered by a known friend of the band? Wow, how utterly depressing. I know the music industry is nepotistic, but seriously Snipe? This is like reading a press released written by a proud mother who just learnt how to use Microsoft Word's Thesaurus feature.
That said, Summer Camp are decent for sure and the photo is lovely.
By briS on Sun 4 July 2010 13:43
Hi.
John here, Snipe music editor.
I commissioned this piece with Laura specifically because she knows more about this band than anyone else I know. She didn't pitch it; we asked her. I personally think that being close to a band during their formation or subsequent ascent is a good thing, as it offers a level of insight not available elsewhere.
We were going to cover them positively anyway, because they are good. It's not nepotism. Any music writer has a lot of friends in bands, most of whom they will never write about. Laura and Summer Camp made sense to me, and I think it makes sense as a piece.
Glad you like the pictures. Lucy probably knows Summer Camp too, does that make you like them less?
Thought not.
John
[email protected]
By John Rogers on Tue 6 July 2010 00:02
There's a difference, quite a notable difference between covering a band that the collective editorial hive believes to be good and foaming uncontrollably over in every other sentence. Overusing positive adverbs and filing overtly positive phrases ad nauseum throughout the entirety of the piece.
If you were to believe this article, we're looking at the greatest band in the history of popular music.
Whether or not Lucy knows Summer Camp is irrelevant in this context. It's not like her pictures were editorially positive or negative, or indeed that they could have been in any way.
Incidentally, the writing of this piece feels like the sort of formulaic shite that seeps out of the arse of underpaid PRs or indeed their unpaid interns. It reads like a collection of student paper introductions, steam-rolled together with the limp passion of a ghost writer penning a Big Brother loser's biography.
Like something published in a scientific weekly, it being so insanely matter of fact and dull.
The internet: fostering blindingly shite writers since 1999.
By briS on Tue 6 July 2010 13:52
Hi,
Um, until the last two sentences, there's approximately one positive adverb, unless I'm much mistaken. Nowhere have I written that they're the greatest band in the history of all time ever.
There are some weird contradictions in what you're accusing me of – one minute, you're saying that I'm foaming at the mouth with gushing fangirlishness, then the next, you say it's "steam-rolled together with the limp passion of a ghost writer". I'm getting the impression that you're someone I vaguely know, so if you'd like to carry this on, perhaps let's take it to email, rather than seeing out this sorry petulance here.
Laura
By Laura Snapes on Tue 6 July 2010 14:16
Well, I disagree with your assessment of the article. Obviously, I guess, or we wouldn't have published it.
That the internet has caused the standard of journalism to decline is pretty well documented, and I generally agree that the rise of self-publishing has created a new kind of amateurism, but you're dead wrong to try and pin this criticism onto Laura. A thousand other webzine writers, yes, but whether you like Laura's style or not, you're very wide of the mark here.
And I suspect you know what I was getting at by making the parallel between Lucy and Laura – I was refuting your point about the perceived nepotism issue and the ethics of covering friends, whether as a photographer or a journalist.
Ah, fuck it. Internet forums are like a petri dish for circular arguments and anonymous mud slinging. It never goes anywhere useful.
I'm out.
By John Rogers on Tue 6 July 2010 14:39
I can assure you that you don't know me, unless you've spent any length of time frequenting the helpline of a certain London-based electricity company.
My points stand and I stand by my points. I have no interest in pursuing this line of conversation via e-mail.
By briS on Tue 6 July 2010 14:47
Whilst Summer Camp may not be "the greatest band in the history of popular music" (guess The Beatles bagged that perpetually contested shitfest of a tag a fair old while ago…) they're a damn sight better than the twee-as-fuck fodder clogging up Fearne Cotton's sycophantic spout at this moment in time (insert Mumford & Sons, The Drums, Marina & the Diamonds etc. here). And if this truly is "the sort of formulaic shite that seeps out of the arse of underpaid PRs or indeed their unpaid interns" Goddamn if only I were on their mailing lists. Personally I find it endearing beyond all measure that there's journalists out and about willing to delve echelons deeper than the unraveling of a viral identity…
By Barcelona Backyard on Tue 13 July 2010 00:59