BORIS JOHNSON
EVENING STANDARD
KEN LIVINGSTONE
LEN DUVALL
SARAH SANDS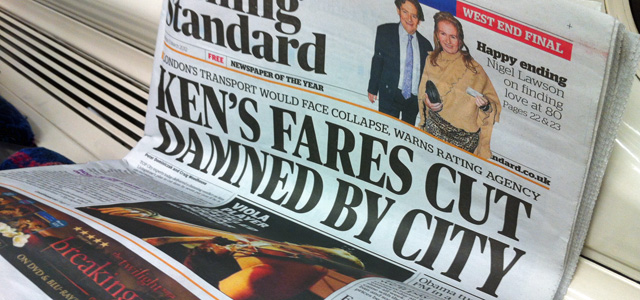 Labour lashes out at "biased" Evening Standard coverage
By Adam Bienkov

26 April 2012, 17:18
The Chairman of the London Labour Party has accused the Evening Standard of "suppressing" negative stories about Boris Johnson.
Labour Assembly Member Len Duvall who is a key ally of Ken Livingstone said during an interview with me for Greenwich.co.uk: that the paper had "pulled it's punches" on the Mayor.
"There was the pension scandal at Visit London. There was the failure of the young black mentoring project. Where was the Standard there? They were crusading on that issue four years ago and then nothing. I think these have been news stories that would have been of interest to their readership and there was an editorial decision to suppress them."
Duvall accuses the paper of breaking it's promise to end "the biased coverage they had in the past" and suggests that personal friendships between the Mayor and key figures at the paper may have skewed their coverage.
He also accuses Livingstone's critics within the Labour party of giving "ammunition to our opponents."
You can read his full comments over here.
Duvall's attack follows the recent admission by Evening Standard owner Evgeny Lebedev at the Leveson inquiry that he is a personal friend of the Mayor.
The new editor of the Standard Sarah Sands is also a close family friend of the Johnsons. Boris was reportedly consulted by the Lebedevs before she was appointed.
Earlier this week Sands claimed that the paper had been "determined to be more generous with the coverage [of Ken] this time around."
Duvall's comments follow a series of damaging front page headlines for Labour's mayoral candidate in the paper and express a wider frustration felt by senior Labour figures.
His comments also follow a series of opinion polls, which although varying in degree, all show Ken set to lose the Mayoral election.
Of course if Livingstone was doing better in the polls, then we probably wouldn't be hearing these kinds of attacks on his critics both inside and outside the party.