Darryl Chamberlain | Wednesday 28 November, 2012 01:27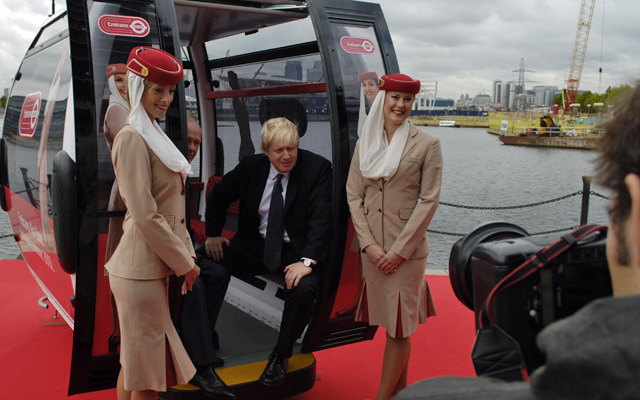 The number of commuters regularly using the Emirates Air Line cable car between Greenwich and the Royal Docks is as low as 16, new figures released to The Scoop reveal.
Just 16 Oyster card holders used the cable car more than five times in the week ending 21 October, qualifying for a regular users' discount.
The figure is part of a detailed breakdown of usage of the £60 million transport link during one week in October, obtained under the Freedom of Information Act.
It also reveals that on one day, just three passengers used it between 7am and 8am.
TfL was asked for hourly statistics between Sunday 14 and Saturday 20 October. Unsurprisingly, the service was popular with tourists on weekend afternoons, with 2,231 passengers recorded between 3pm-4pm on Saturday 20 October.
But its gondolas are crossing the Thames largely empty during weekday mornings. No more than 14 people used the cable car in its first hour of operation on any weekday.
On Wednesday 17 October, just three people used the cable car between 7am and 8am – compared with 10 making equivalent journeys by Tube and DLR to or from North Greenwich within that hour.
An average of 78 people used the link between 7am and 10am on any weekday, not quite enough to fill a single double decker bus.
In addition to the 16 regular users who got an Oyster card discount, just 41 multi-pass tickets were sold that week, enabling users to pay in advance for 10 journeys over a year.
The figures obtained by The Scoop are the latest in a series of statistics showing how few people are using what mayor Boris Johnson called "a much-needed new connection" when it launched in June.
Two weeks ago The Scoop revealed the link was running at less than 10% of capacity, while earlier this week it was revealed only 301 people used the crossing one day after it was affected by high winds. Details of the sponsorship deal with Emirates – which at £36m, leaves a £24m shortfall on the project – have also been disclosed.
TfL said in a statement: "The number of journeys made on the Emirates Air Line after only five months is currently over 1.5 million, this has already exceeded the first financial year target of 1.3 million passenger journeys and current passenger numbers are in line with TfL's forecasts."
"The purpose of the Emirates Air Line is to support regeneration in east London. If the Emirates Air Line was at full capacity now there would be serious concerns about how it could carry the future population growth it was built to support. TfL expect passenger numbers to increase further as regeneration takes place either side of the river."
| | | | | | | | |
| --- | --- | --- | --- | --- | --- | --- | --- |
| | Sun 14th | Mon 15th | Tue 16th | Wed 17th | Thu 18th | Fri 19th | Sat 20th |
| North | 6,137 | 1,318 | 725 | 1,618 | 1,577 | 1,323 | 7,911 |
| South | 6,337 | 1,356 | 555 | 1,812 | 1,956 | 1,569 | 8,269 |
| TOTAL | 12,474 | 2,674 | 1,280 | 3,430 | 3,533 | 2,892 | 16,180 |
Total cable car passengers, broken down into north and southbound journeys, 14-20 October 2012. Source: TfL
0700-
0759
0800-
0859
0900-
0959
1000-
1059
1100-
1159
1200-
1259
1300-
1359
1400-
1459
1500-
1559
1600-
1659
1700-
1759
1800-
1859
1900-
1959
Sun 14 Oct
-
-
135
397
944
1,388
1,795
1,643
1,988
1,695
1,422
773
294
Mon 15 Oct
6
28
30
148
304
302
390
362
320
283
203
159
139
Tue 16 Oct
8
12
37
0
0
0
0
0
0
204
558
257
204
Wed 17 Oct
3
16
65
305
334
474
309
384
498
398
301
197
146
Thu 18 Oct
14
40
45
362
369
357
346
527
403
426
335
145
164
Fri 19 Oct
6
13
67
254
455
391
384
302
248
188
204
197
183
Sat 20 Oct
-
169
367
746
1,144
1,735
1,854
2,087
2,231
2,077
1,937
1,242
591
Cable car passengers, hour by hour, between Sunday 14 and Saturday 20 October. Source: TfL.
See data for equivalent journeys by Tube and DLR to North Greenwich.

Service closed for part of Tuesday 16 October due to 'adverse weather conditions'
---