Darryl Chamberlain | Monday 30 April, 2012 12:31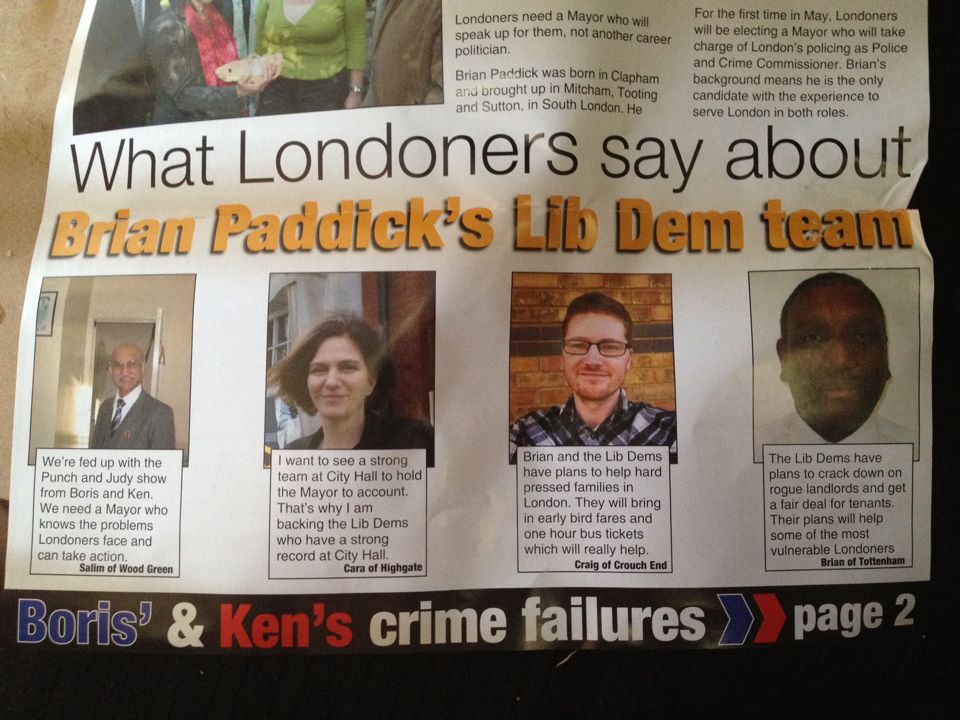 Following on from this morning's story about Brian Paddick using Lib Dem activists to pose as "Londoners" in his election leaflet, we've just been sent the North London version of Paddick's pamphlet.
It's very nice of Brian to print different leaflets for different parts of London, so what's the thinking on the ex-copper north of the river?
Let's take that chap on the right. "The Lib Dems have got plans to crack down on rogue landlords and get a fair deal for tenants." Hold on, isn't that what the fella in south London – Liberal Youth activist "Bobby Dean of New Cross" is saying? Oh yes it is. In fact, all the quotes are the same as the south London leaflet.
So who's this keen convert to the Paddick cause? Ah, only Brian Haley, a former Haringey councillor who had a pop at the Lib Dem mayoral nomination himself.
The others probably didn't need much convincing to back Paddick either. From the left is Crouch End-based activist Salim Mamdani (who does a nice
sideline in palm reading), former Lib Dem candidate in Bounds Green Cara Jenkinson and Craig Brown, campaign chair of the Haringey Lib Dems.
They make those Lib Dems work hard in Haringey, you know.
So that's four out of four fake "Londoners" in Paddick's North London leaflet – with not even an endorsement from a curry house like on the South London leaflet.
As I mentioned earlier, it's not just the Lib Dems up to this trickery- thanks to Helen for reminding us that many of the bloggers on the Back Boris website are Tory activists. And there's been some familiar faces around Ken Livingstone as he's posed for photos while ticking each borough off his itinerary.
Maybe it's just too much for the mayoral candidates to find any genuine endorsements? If you spot any other pamphlet porkies from any candidate, let us know.
UPDATE Adam just ferreted out this 13 April tweet from @LibDemLife: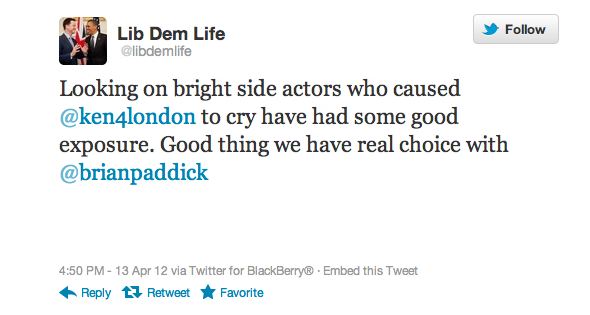 Real choice, indeed.
Earlier today: Can Brian Paddick find any ordinary Londoners to back him?
With research and photo by Fiona Garden.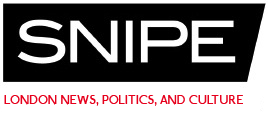 Get the latest articles from Snipe by following on Twitter and Facebook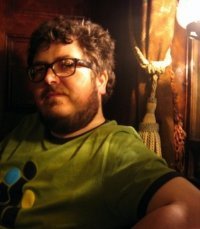 About this writer
Darren Atwater
Darren is the editor and publisher of Snipe.
---