Sunday 26 August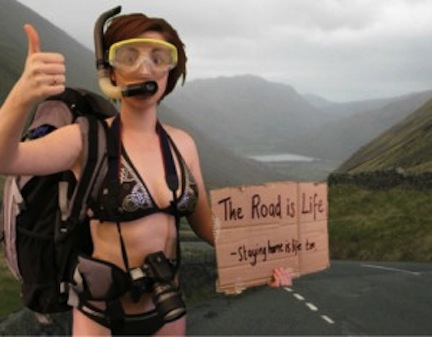 Gap Year
Chloe Ward is a dyslexic northern actress. As if that isn't enough, she's decided to put on a Fringe show detailing the most embarrassing moments in her life to complete strangers. What do they do to people up north to make them such gluttons?
Gap Year doesn't appear to have anything to do with taking a break between school and uni to travel the world. Unless she's taken a year off from the daily grind of work to create and tour this sketch show. Fairly fast-paced, this is Fringe as Orson Welles would have attempted for his first time round, throwing absolutely every strand of half-boiled spaghetti in the pot at the wall. There's sketches, short films, shadow theatre, animation and a multi-instrumental-video-looping-one-woman-orchestra. Ward is clearly extremely talented and very funny. However. And it's a big, frustrated however. The direction in this show is… Mad. There's is no structure whatsoever, no flow, no continuity and no editing. Every idea in Chloe's whirling head has been thrown at the audience. She is a talented clown let loose without an outside eye to tell her when something works and something doesn't. The show makes every first-time-show mistake possible. So while there are many, many flashes of brilliance, nothing holds together and I want to strangle her. Also, the catastrophes she reveals don't seem too terrible. There are a few instances when she stands outside the show to comment about herself and in these moments she becomes more engaging and real.
When this show is (hopefully) retuned and remounted I think it will be brilliant. Until then this feels like a retrospective of ten years worth of unseen shows.
Leisa Rea: Bastard Legs and Other Shows I Haven't Written
Leisa Rea is a Londoner with ADD. While it's almost always a bad idea to compare two shows at a Fringe, in this one case it might be useful. Unlike Gap Year, a sketch show by the dyslexic Chloe Ward, Bastard Legs and Other Shows I Haven't Written works precisely because Rea's mind is all over the place. Rea admits she has no act, merely a heap of bits that she pushes around and arranges as she remembers they exist. Using powerpoint projection and a real pizza delivery-boys she creates an angry surrealism that still manages to convey warmth and a love for her audience. However much she claims to be an asshole and a dick.
I have to be honest and admit I am a big fan of Rea. While I might have enjoyed past shows more, Bastard Legs still strikes me as a gorgeous mess of mixed stupidity and wandering genius. It's incredibly uneven (though this is, it must be said, the first outing for most of the material) but it still works because Rea's ironclad confidence hold it together. The night I saw it the crowd was a quiet one, which affected the show. That was the one thing she wasn't expecting. But even a subdued and rambling Leisa Rea is still one of the most solid shows you'll see at a Fringe.
Survive!
Missy dreams of becoming a dancer and moves from Sherwood to London expecting streets of gold and ruby dancing slippers. Ha! That plan always works out well!
I have to admit, I am not an expert on dance. I can watch a dance piece and comment on its grace, or precision, but I don't know the language of dance, the history of style that an expert can use to interpret what works and what doesn't. At a pinch I would say that the choreography of Survive! is very much influenced by American dance movies, especially the stuff seen in films featuring gritty, urban dance-offs and small town steel welders who just wanna dance. The dancing is muscular, repeating itself in phrases, creating a sort of physical punctuation to help tell the story. Does that even make sense? Let's say it does and move on. Punchy, funky, hip-hoppy with a touch of ballet and a slap of tap dancing.
What I liked most about the show was that it served as a showcase for a number of different kinds of artists. As well as each dancer's character having their own style there was an excellent Rap artist, or Lyricist as he prefers, Turan Webb, and a singer/songwriter Simi Khanna. Chloe Packer (last seen in this Fringe's Familiaris) carries the narration for the show, and dancers Michelle Spencer, Marta Valverde, Veena Parmar (who also choreographed) and Francesca Tebbutt (also from Familiaris) each get to fling their limbs around with panache.
The only part of the show that didn't work for me was the projection of photography onto the stage wall. Images taken from around Camden contributed nothing to the show. They didn't tie into the story (except that Missy lives in the area) and weren't particularly interesting except to document the colourful quirks of local life.
comments powered by