Adam Bienkov | Monday 1 August, 2011 13:20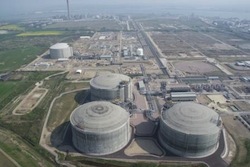 A new plan backed by Boris Johnson to build an airport on the Isle of Grain has been dubbed as "pie in the sky" and "ridiculous" by leading Tories in the area.
The Evening Standard report that the Mayor is "thrilled" by Lord Foster's plan.
Kent Tories on the other hand are rather less than thrilled.
The Conservative leader of Medway Council Cllr Rodney Chambers said in a statement today:
The Isle of Grain is home to the largest Liquefied Natural Gas terminal in Europe and around a fifth of the UK's gas supply is offloaded by container ships and stored there. It is plainly obvious that aircraft and huge gas containers are a potentially lethal mix. I can only assume that neither Lord Foster or Boris Johnson, who is said to be thrilled by this plan, have actually left their offices and travelled from London to the Isle of Grain to have a look. A huge new airport on or near the Thames Estuary, which would cost up to £70 billion, is both unaffordable and unnecessary and the government and many airline industry giants have already said they do not support such a plan. Boris has no power to build an airport anywhere, least of all in Kent.
Conservative MP for Rochester and Strood, Mark Reckless said
If it was a serious proposal I'd expect it to be more broadly covered in the media, it's always the Sunday Times. It's ridiculous, they've not got a clear proposal."
Boris is now reportedly lobbying the government to back the plans.
When asked last year about building a new airport in Kent, David Cameron replied that it was "not our policy" before adding that: "Boris is a great mayor of London doing an excellent job, but building airports is not his responsibility."
And with Cameron unwilling even to give Boris control over a few parks the chance of him handing over control of the nation's airspace does seems somewhat remote.
---