Lauren Down | Monday 9 May, 2011 14:50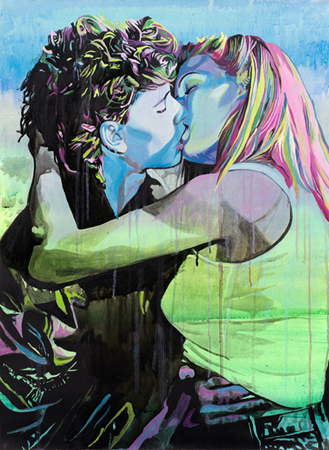 'The Kiss' – Siân Hislop, 2011 (Courtesy French Riviera Gallery and the artist)
Open Studios
Second Floor Studios, Mellish Industrial Estate, Harrington Way, Harrington, Woolwich, SE18 5NR
This weekend Second Floor Studios offers a rare chance to see inside over 130 artists studios, giving an insight into their methods and inspiration. Works on display range from paintings, graphics, illustration, jewellery, ceramics, sculptors, fashion design, sound installations, animation and photography. Opening night 12 May, 5pm-9pm, 14 & 15 May, 11am-6pm.
Siân Hislop: Le Baiser
French Riviera, 309 Bethnal Green Road, Bethnal Green, E2 6AH
The first solo exhibition of UK artist Siân Hislop, 'Le Baiser' will feature a series of new paintings based around famous on-screen kisses. With dripping, cascading layers of acrylic ink bursting through the outer layers of oil paint, Hislop's beautiful vibrant work investigates the space between triumph and decay in Americana. From 13 May.
www.frenchriviera1988.com
Open Friday – Sunday, 12 – 6pm 020 7729 8000
Susan Hiller
Tate Britain, Millbank, Pimlico, SW1P 4RG
This week offers the last chance to check out Tate Britain's major survey of the influential work of American born artist Susan Hiller. Encompassing her socio-political infused work from the 1970s to more modern explorations of the unconscious mind, menacing video installations such as 'An Entertainment' and audio sculpture 'Witness' promise to be highlights. Until 15 May.
Definitions
Victoria-Miro, 16 Wharf Rd, Angel, N1 7RW
'Definitions' offers a unique chance to see Bahamas born artist Ian Hamilton Finlay's sculpture works presented alongside his text-based pieces. Exploring the materiality of the written word's meaning, this exhibition is a reminder that Finlay was a poet at heart whose art was informed by mythology and classicism. Until 1 June.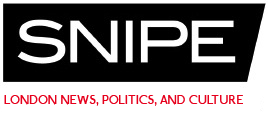 Get the latest articles from Snipe by following on Twitter and Facebook
About this writer
Lauren Down
---