BORIS JOHNSON
EVENING STANDARD
KEN LIVINGSTONE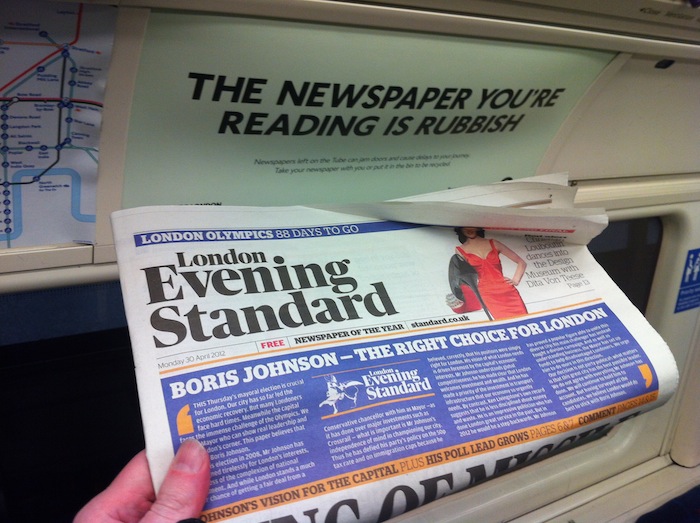 The Evening Standard: even more pro-Boris than in 2008?
By Adam Bienkov

2 May 2012, 13:58
On Sunday, the Mayor of London was caught lying in order to avoid an interview with BBC London's Tom Donovan.
The next day he was booed at a cyclists hustings and told a reporter to "stuff Donovan and his fucking bollocks."
None of this made the Evening Standard.
They did however find room for a double page spread titled "Johnson: my vision for future of the 'greatest city on Earth'"
The next day they also found room for several comment pieces backing Boris's re-election including one from his biographer and good friend Andrew Gimson.
Titled "Boris Johnson's expletives are livening up the London Mayoral race" it read:
"Boris Johnson has once again shown his ability to talk like a member of the working classes… Here's a posh boy with the common touch. It's the sort of thing a market trader or a cabbie might say… Boris's explosions may betray the fact that he is under enormous pressure, but they have also livened up what could have been a deadly dull campaign."
The paper also featured endorsements from senior business figures, one of whom said he was backing Boris because Ken "once opened a library" near him.
The paper's editor (and close family friend of the Johnsons) Sarah Sands wrote in her own editorial that "Boris is a debunker of established power in general and tyranny in particularly" and described him as "a populist who is nevertheless well insulated against megalomania."
Today's front page is simply a quote from the Prime Minister saying "I want a Boris in every City – You don't have to be a Tory to vote Boris"
Now there's nothing wrong with a newspaper being biased. The Daily Telegraph and the Mail are both biased in favour of the Conservatives.
But the difference with those papers is that they don't suppress every major story about their favoured party or friends.
If David Cameron were to launch into a sweary rant about Nick Robinson on TV, or get booed at a cyclist hustings after insulting the audience, then they would cover it.
Similarly if the government was involved in a pension scandal, or if one of Cameron's flagship schemes collapsed then they wouldn't suppress it.
Sadly the same can no longer be said about the Evening Standard.
And it's not for a lack of good journalists. People like the paper's City Hall editor Pippa Crerar and Ross Lydall have done a good job of holding the mayor to account over the years.
But an editorial decision was made at the start of this election campaign to forget their previous apologies and promises and give Boris Johnson as easy a ride as possible.
And in some ways the paper's coverage of this election has been even worse than in 2008.
Back then the anti-Ken headlines and billboards were over the top but at least Wadley didn't ignore or downplay every story that was potentially embarrassing for Boris.
And while they vigorously attacked Ken Livingstone, at least then they could claim that they were simply holding the current Mayor to account.
What is their excuse now?