Darryl Chamberlain | Friday 15 August, 2014 08:04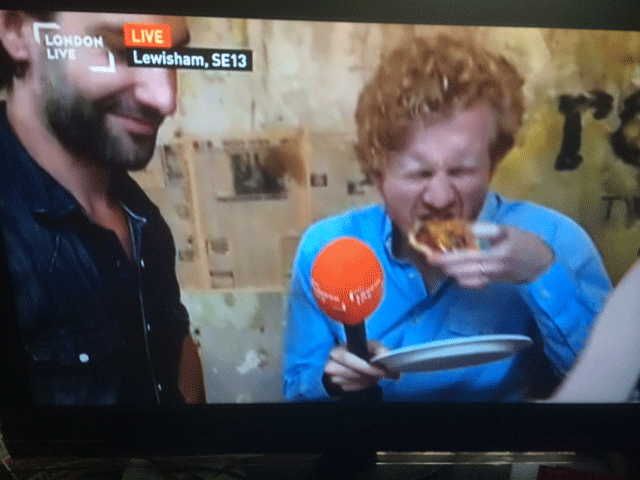 It's the day after England's World Cup defeat by Uruguay. Everywhere's full of football, football, football. Surely London's newest television station will have something different to make me forget about the match?
I switch to channel 8… to see a newspaper reporter talking self-consciously at his phone camera in Brazil to tell me about a football match he, me, and half the rest of the country saw last night. There's then a studio discussion about Roy Hodgson's tactics, "five things you didn't know about Uruguay", and the big question on everyone's lips… will England's World Cup exit provide a boost for Labour? What's any of this got to do with London?
Welcome to London Live. Like the England team – it's not doing very well at the moment. Launched in March as part of what the government hopes will be a chain of local TV stations, it was seen as the most lucrative television franchise since Channel 5 arrived in 1997.
It's not all bad. Eye-catching programme commissions such as F2 Kicks Off and Drag Queens of London set the channel out from its rivals, as does Sunday night documentary strand Platform 8. Buying up comedies set in London such as Spaced and Peep Show provides some ratings bankers. Teatime going-out show London Go is well worth a watch if you're home in time. The easiest way to see the best of the channel is not to look at its cluttered website, but to see its Facebook feed.
The actual look of the station is great – a colourful ident, hummable theme music. The set, facing out onto Kensington High Street, looks decent, although the occasional sound of a car alarm is reminder of the station's skimpy budget.
But for a channel that's being beamed into 4 million homes, it's bumping along on about 130,000 viewers a week. Top-rated shows are getting about 20,000-30,000 viewers. It's backed by the deep pockets of the Evening Standard's owners, Alexander and Evgeny Lebedev. But if London Live wants to stay alive, it's going to have to increase those numbers.
Three months after its launch, it should be showing some city swagger. But instead, it all feels horribly self-conscious. "There's a hashtag-good service on the Tube this morning," trills the morning travel presenter. A trailer praises one show as "sick". And what feels like every five minutes, there's a plug for flagship food show Food Junkies.
If London Live's struggling, it's because it doesn't know what it wants to be. It wants to hang out with the cool kids, but it's also got to host a debate with the editor of the Independent. It wants to show young men doing fancy things with footballs, but it's also showing 25-year-old episodes of fire drama London's Burning..
The weakness is in the core spine of the channel – the live shows from its set next to the Standard newsroom. Weakest of all is the painful Not The One Show – billed as an "irreverent and inquisitive" look at the day's events. But it just lurches awkwardly between serious and frivolous topics, with guests who simply don't know what they're talking about.
Asking if Boris Johnson took a step too far by calling Tony Blair mad doesn't sound right if you're calling him "BoJo". Indeed, celebrating the mayor's 50th birthday with balloons and announcing "he's more popular than ever" doesn't exactly indicate you've gone outside the Evening Standard newsroom much. On that night, three guests and the presenter all agreed that Boris was brilliant. There's balance for you.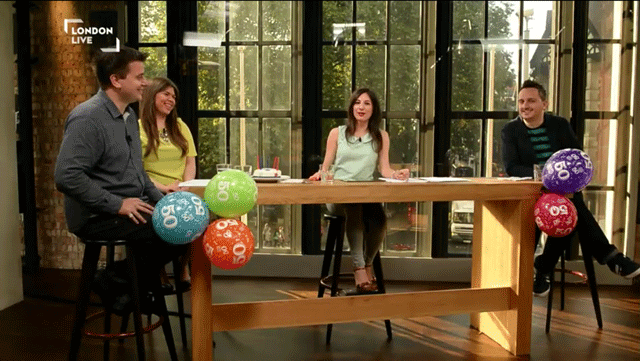 Not the One Show celebrates 'Bojos' birthday
Its reliance on Standard's newsgathering operation means its actual news content is minimal. May's huge fire at Camden Lock, the kind of story you'd expect a station called London Live to be all over like a rash, went ignored until the following morning. And Not The One Show's crawling to Boris shows the station's currently a long way from the scrutiny of City Hall and the boroughs promised in its licence application (which included clearing the schedules for London Assembly debates).
The low budgets manifest themselves in all sorts of unusual ways. Reporters rarely appear on camera (because they're holding it), so filmed packages end up being a succession of people talking at you, and lack engaging conversation.
London Live's lack of self-confidence is revealed by almost every report featuring someone saying how good London is. Apparently, Leicester Square is the film capital while Shoreditch is a bit edgy. But we live here, there's no need to tell us.
The overall feeling is that of a student television station. Which would be fine if this wasn't part of a huge media organisation. And anyhow, London Live's equivalent station in Glasgow is run in association with a university – and is a far slicker affair.
Indeed, London Live should benefit more from its link with the Evening Standard and Independent. It's copiously plugged in both papers. But instead, it feels like a handicap.
While London Live's clearly influenced by the Standard's trend-chasing agenda of talking up the city, it's hard to see the connection between the conservative, establishment-pleasing evening freesheet and the television station interested in chasing young eyeballs. Daily ads implore Standard readers to watch London Live on their phones going home – a challenging proposition for anybody taking the Tube.
So what's gone wrong? Is it the wrong format? It could go to a rolling news format – similar to New York's NY1 – but that's been tried before in London, by short-lived 1990s cable station Channel One.
Or they even chasing the wrong audience? Launch editor Stefano Hatfield jumped ship weeks after the station opened to go to a website for the over-50s. Older people in London have more money to spend – and might like those London's Burning repeats, too.
And is London too big for a "local station" to succeed? After all, London Live has a bigger potential audience than Ireland's national broadcaster. But London's size should provide opportunities. So perhaps it needs to think about what unites Londoners, and what different communities it can champion in its shows. Could London Live do for cyclists or craft beer fans what it does for drag queens and freestyle footballers?
The entertainment side of the station seems to be finding its feet. But its news and information desperately need beefing up. The trouble is, of course, that news on TV is a cumbersome, time-consuming and expensive business. You can't get away with ripping off people's Twitter output.
But there are simple fixes. BBC3 can manage an minute-long news bulletin each hour – why can't London Live? And on its breakfast show, why can't the all-important travel information just scroll along the bottom of the screen, instead of having to wait for a bulletin?
Perhaps, though, the Lebedevs aren't bothered. Indeed, while most new media outfits revamp and refine their output in their early weeks, London Live's sticking stubbornly to its guns.
And after all, just like owning a newspaper, having a TV station's a good way to ease your way into the corridors of power, to get influence with easily-impressed decision-makers. Losing a few million could be a price to pay.
Is London Live going to be a serious force in the capital, or is it just going to be an oligarch's trophy? We'll find out over the next few months.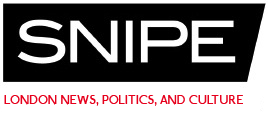 Get the latest articles from Snipe by following on Twitter and Facebook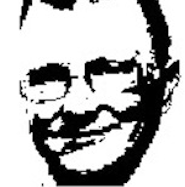 About this writer
Darryl Chamberlain
Darryl writes Greenwich's 853 Blog and contributes to the Charlton Champion.
---