Adam Bienkov | Thursday 18 October, 2012 16:21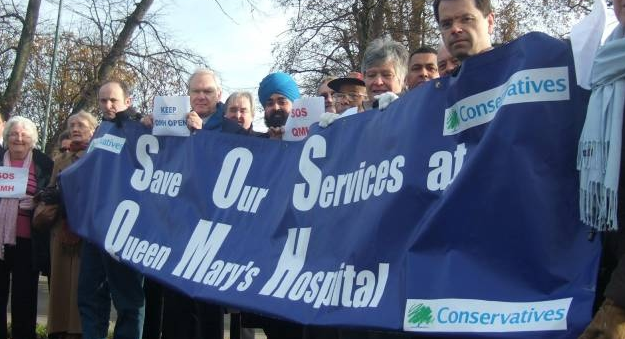 Boris's fire chief James Cleverly got himself into a tizzy this afternoon over our report on proposals to close seventeen fire stations across London.
James clearly wasn't happy with how we covered the story. You can read my whole exchange with him on Twitter here and judge for yourself.
However, I was reminded of another occasion when James got himself into trouble over cuts to emergency services.
Back in 2008 when Labour were still in power, the accident and emergency unit at his local hospital Queen Mary's in Sidcup was threatened with closure.
James went on marches, wrote blog posts and even took part in a candlelight vigil against the plans.
He was joined by a Phalanx of other Tory politicians including Boris Johnson and the world famous Tory council leader Ian Clement.
Local voters understandably got the impression that if their local Tory MP, Tory council, Tory Assembly Member and future Tory Mayor were against the plans, then the hospital would be safe under the Tories.
Well the Conservatives formed a government in May 2010 and lo and behold the Accident and Emergency unit at Queen Mary's was swiftly closed.
It has not re-opened.
Now I'm not blaming James for this. I'm sure the decision was well out of his hands and he did all he could to lobby against it.
But the very least he could have done is apologise to those people who voted for him believing that he would save the unit.
Instead he has repeatedly tried to pass the blame onto his local hospital trust and the previous government.
That's all well and good, but when you're elected to do something, the very least you can do is take responsibility if you fail.
I've always liked James and was pleased when he took over from Brian Coleman.
But over the next couple of years he is going to be the public face of big cuts to London's fire services.
When people lose their local fire station, they are going to hold him personally responsible for it and he will no doubt get some abuse.
When that happens James is going to have to take responsibility and at the very least develop a thicker skin than he has so far shown.
---