Mike Pollitt | Tuesday 17 July, 2012 14:11
"Everybody thinks it just was. But there's a beginning to all things. A story that never got talked about, that got lost."
Winstan Whitter tells lost tales. He likes to begin at the beginning, because that's the part people later forget. There's a shiny new block of apartments in Dalston, called Dalston Square, where one of these lost stories used to be. But more of that later. Let's begin at the beginning ourselves.
Who is he?
"The biggest reason for wanting to put stuff to film is misrepresentation or underrepresentation"
Whitter is 38. He was born in Ghana, is late of Hackney, and now based in Stratford. He started in the film industry 12 years ago as a camera grip, and has worked up to become a director of photograpy on adverts, film and TV. In his spare time, he films the stories that are getting away.
First there was the skateboard scene. He started filming it from the inside in the 1990s, and in the early noughties began work on Rollin' Through the Decades [trailer] [DVD]. It's a documentary about the beginnings of skateboarding in the UK, when kids showed off their tricks in the nooks of the city, on concrete wasteland no one else wanted, while no one else was watching on.
"There was never a documentary that explained skateboarding to people outside," he says. "Vicars in churchyards used to swear at us. In England it was looked on as a fad."
In time the vicars stopped swearing and the fad caught on. Feet that had never touched a board started slipping into Vans. Tony Hawks' video game character became a household name. It started making people, some people, very rich indeed.
Skateboarding went mainstream. Suddenly everybody knew what it was, and nobody cared how it used to be. That's the lost story Whitter's film seeks to pin down.
The lost club of Dalston
"What Hackney Council did will never be forgotten"

And so we come to Dalston Square, a newly risen apartment complex in the heart of Dalston. It's built on the site cleared by the demolition of a Victorian theatre, which became a second hand car showroom, which then shared space with the Four Aces reggae and soul club, which both later became a dance club named Labyrinth. If you know Dalston now, and don't know this, then do you really know Dalston at all?
Making Legacy in the Dust: The Four Aces Story was "like doing a history Phd," says Whitter. He used to work at the club, as did his father, but his film goes back much further, before the post-war waves of immigration which buoyed up the Four Aces through the 1960s and 70s, and filled it til the early hours. He reaches back to the turn of the century, to the Victorian theatre and the Edwardian middle class. It's the story of a hundred years.
The OPEN Dalston website was created in part to save the buildings threatened by development. In 2006 that blog set out the case against demolition and provided a focal point for local opposition to the change. In 2007, the building came down. Footage of that demolition opens and closes Legacy in the Dust.
The resentment rumbles on. Last week OPEN reported that the bus stand which formed a key part of the development proposal will serve no extra purpose during the Olympics, despite promises made at the time of its commission. It serves just one bus route, for £63m. Too late, now, anyway. It's there, and the old buildings are gone.
Whitter's is a sad film, in subject. An elegy for an abolished place. But it doesn't watch like one. The editing is slick and witty. The clip above, in which contributors ranging from the Four Aces' owner to members of the Prodigy try and fail to list the name of every band who played there, is a perfect comic viral.
And it isn't new. Whitter finished the film in 2008 and showed it successfully at the BFI, at venues in Dalston, and at various festivals and events across the city. The Hackney Hear podcast was just getting underway back then, and their fifth episode reported from the film's premiere.
People who have seen this film like it, but it's never been widely released. Why not? It's those two old partners, never far from each other's side: lack of money and lack of opportunity.
What makes it hard?
"Copyright is a black hole"
Whitter would like to release Legacy in the Dust more widely, as he did with Rollin through the Decades, But there's a £50,000 problem. Rights.
His film contains archive news footage which is needed to fill in the context as his story moves through the 20th century. Permission to use those clips in giving the film a wider release, he guesstimates, would cost him £50,000.
"Big corporations have got all this archive footage and no one us using it. There is an uphill struggle with that and something needs to change because all of this stuff is just sitting there and a lot of people have got great ideas for [it]."
The industry itself also seems, to Whitter's eyes, a closed and cliquey place, interested only in a certain type of tale. He talks of a season of reggae films which illustrated the growth and impact of the West Indian music scene with clips of UB40. You sense a frustration. He's been making films, good ones, for a decade now. He's a successful independent filmaker. But he's still pushing his work on his own, and as any artist or artisan knows, that's not an easy task. "It takes time," he says, with the tone of a man who has expended a lot of it on an uncertain hope. But his efforts and his belief may be about to pay off.
What's next?
"Now people are knocking on my door"
Whitter has been approached to direct a feature film set against the Ska Wars music of 1968 Dalston. On the side he will keep pushing Legacy in the Dust, but he clearly relishes the prospect of being wanted by others. It's been a long time coming. He also wants to make a film about Dr Kwame Nkrumah, Ghana's first president whose proposal for a united Africa was used as a prototype for the EU.
"He's another pioneer," Whitter says, a passion rising in his voice. "It's another story a lot of people aren't being told."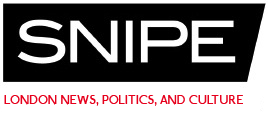 Get the latest articles from Snipe by following on Twitter and Facebook

About this writer
Mike Pollitt
Mike Pollitt is the editor of The Metropolis.
---