BORIS JOHNSON
CHURCH OF ENGLAND
RAY LEWIS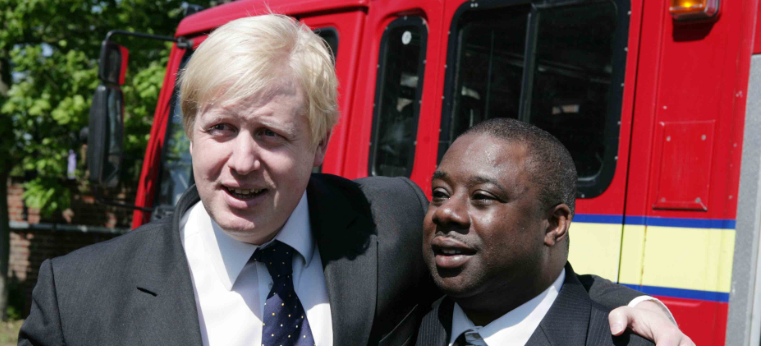 Letters reveal Church warnings to Boris Johnson over Ray Lewis
By Adam Bienkov

12 February 2013, 14:25
Boris Johnson was advised by the Church of England not to reappoint his former Deputy to a senior role, following his "unprofessional conduct" as a minister, The Scoop can reveal.
Letters obtained by this blog, reveal that the Bishop of Barking David Hawkins wrote to the Mayor in 2010, advising him not to give Ray Lewis "too high a responsibility."
He advised Johnson that Lewis was a "controversial character" who should only be reappointed if he was given a "contained role" with a "good and supportive accountability structure" around him.
The correspondence followed claims that the church has a dossier of allegations against Lewis. He was struck off as a Church of England minister in the nineties.
The Bishop wrote:
"Dear Boris…. What I said to you was that because of issues related to his ministry when he was a Church of England minister he has not been allowed to have a Church of England licence. In my view this should not prevent you using him in the area of his expertise in mentoring young people. The problems which you encountered two years ago were due to appointing Ray to the high profile responsibility of Deputy Mayor. What I said to you in our conversation was that he should be given a second chance but should not be given too high a responsibility and he should be given a good and supportive accountability structure in which to work. Because Ray is a controversial character there may be some opposition even to this more contained role within City Hall."
Lewis resigned as Boris's Deputy Mayor for Young People in 2008 following allegations of financial and sexual misconduct and his admission that he had lied on his CV.
Lewis was also accused of using "racist and homophobic language" towards boys at the Eastside Academy, by The Guardian.
No official investigation was undertaken into the allegations. Last year the mayor reappointed Lewis to a paid position as his senior mentoring adviser.
Labour today said there remained unanswered questions about Lewis's departure and subsequent return to City Hall. Labour Assembly Member Len Duvall said:
"There are still unanswered questions about Mr Lewis' departure from City Hall. There was supposed to be an independent investigation into the original allegations, but this was stopped because he had left. Now that Mr Lewis is back at City Hall the London Assembly is considering asking the Mayor what plans he has to restart this investigation. We may also interview Mr Lewis on the issues that led to his departure."
Asked about the allegations against Lewis on the Vanessa Feltz Show last month Johnson said:
"The upshot was that we did the maximum possible investigation into it and in the end it was exactly as everybody said. It was just a constant drip, drip, drip of innuendo and so on and so forth and look, we couldn't really get to the bottom of it."
A spokesperson for the Mayor said:
"As the Mayor has said numerous times before, he believes Ray Lewis has invaluable experience and is dedicated to supporting young people and no evidence has been presented to him to persuade him otherwise."
The Ray Lewis Letters
13 May 2008:
"Dear Boris…. As you probably know your Deputy Mayor, Ray Lewis, was a Church of England Clergyman in my Episcopal Area in the 1990's. He is no longer serving in authorised ministry in the Church of England. If at any point you wish to speak to me about this do be in touch…. The Bishop of Barking, Right Reverend David J L Hawkings "
08 July 2008:
"Dear Boris, I was hoping to speak to with you by telephone yesterday with regard to the events surrounding Ray Lewis. As you will remember we did not speak about Ray Lewis when you came to Millwall for the Global Day of Prayer event on 11th May, Pentecost Sunday. This was because at that point I did not know that Ray was a Church of England minister nor anything about his past ministry in my episcopal area. On Monday 12th May, I was informed of the fact that Ray was ordained and that on his resignation from St Matthew's Stratdord a decade ago Ray has not been permitted to exercise authorised ministry in the Church of England because of allegations of unprofessional conduct.
"On 13th May I wrote to you by email and letter informing you that Ray was no longer serving in authorised ministry and inviting you to speak with me about this issue if you chose, copy attached. I felt it my duty to inform you immediately (even thought I had little detail of the facts at the time) in case you had not been alerted by anyone else following your decision to appoint Ray as Deputy Mayor. At the same time I informed the Diocesan Bishop of Chelmsford and Lambeth Palace that I had alerted you to this fact."
08 July 2008
Dear Bishop,
Thanks for your letter and for your (eventual!) clarification. Let us make sure we put this episode behind us and work together on the issues that really matter to the people of London. We can make a huge difference to the lives of disadvantaged children, and we should not miss the chance. Best wishes, Boris Johnson.
15th June 2010:
"Dear Boris, Appointment of Ray Lewis: Young Peoples Mentoring,
"I appreciated your private conversation with me after we left the stage [at the global day of prayer] with respect to Ray Lewis. I did not know when we spoke that your wish to use Ray's expertise in mentoring black young people was to be announced on Monday.
"What I said to you was that becasue of issues related to his ministry when he was a Church of England minister he has not been allowed to have a Church of England licence. In my view this should not prevent you using him in the area of his expertise in mentoring young people. The problems which you encountered two years ago were due to appointing Ray to the high profile responsibility of Deputy Mayor. What I said to you in our conversation was that he should be given a second chance but should not be given too high a responsibility and he should be given a good and supportive accountability structure in which to work. Because Ray is a controversial character there may be some opposition even to this more contained role within City Hall…"