Darryl Chamberlain | Thursday 19 May, 2011 03:32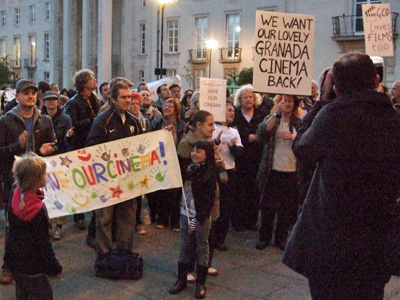 There will be a few sore heads around E17 this morning after Waltham Forest Council rejected plans to turn Walthamstow's only cinema into a church.
About 200 protesters gathered outside Walthamstow Assembly Rooms last night in a noisy, but largely good-natured demonstration of support for plans to restore the old cinema, which has been closed since 2003, and pressing councillors to reject proposals to turn it into a base for the Universal Church of the Kingdom of God.
In the end, the seven councillors unanimously threw out UCKG's plans, prompting delirium from those gathered outside – and anger from the church's followers, who packed out the public gallery, leaving many who were due to speak to the planning board stuck outside.
But the campaign to reopen the cinema, a listed building which has also played host to concerts by the Beatles and the Rolling Stones, still has a long way to go. The church owns the building, and its followers insist they are determined to see it become a place of worship.
After the meeting, police separated the two groups, with protesters – who claimed UCKG had bussed in followers from as far away as Birmingham – chanting "7-0 to the Walthamstow".
UCKG's followers chanted back "we won't sell", with one making a "loadsamoney" gesture at protesters, declaring: "It's ours."
"It's our borough," a protester responded.
The bad feeling towards UCKG was echoed inside the council chamber, with local councillor Clare Coghill telling the council none of her 10,000 High Street constituents had written to her in support of the proposals. In addition, she added, she had tried to speak to UCKG four times but without success.
"There's a word for that, and that word is contempt," the Labour representative told the committee.
Councillors were serenaded from outside the hall by bagpipers, while a tiny social club in the town hall grounds found itself doing a roaring trade. One woman dressed up as an usherette, handing out sweets.
Campaigners hope the newly-formed Waltham Forest Cinema Trust can acquire the building – currently covered in scaffolding – and keep it in community use.
But while film fans were celebrating into the night, they will wake up this morning knowing that while UCKG still owns the cinema, this particular saga still has a long way to go.
11.30am update: The Waltham Forest Guardian reports that UCKG will appeal against the committee's decision.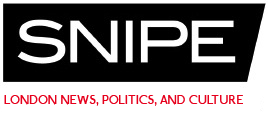 Get the latest articles from Snipe by following on Twitter and Facebook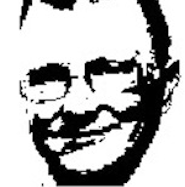 About this writer
Darryl Chamberlain
Darryl writes Greenwich's 853 Blog and contributes to the Charlton Champion.
---