BORIS JOHNSON
CABLE CAR
GREENWICH
ROYAL DOCKS
TFL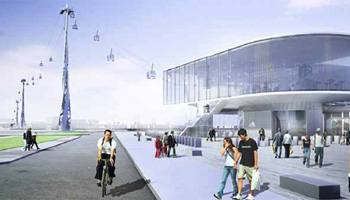 Your name here: Mayor Boris hunts for cable car sponsor
By Darryl Chamberlain

18 April 2011, 13:35
He's painted London's streets blue after pocketing bankers' cash – now Boris Johnson is looking for a big-name sponsor for his planned cable car across the Thames.
Work is due to start this summer on the link between the Greenwich peninsula and the Royal Docks, with London Eye developer Mace in charge of building the structure.
Already TfL has admitted its ambition to get the car up and running for the Olympics is looking shaky, calling it "an extremely challenging timeline for a complex project".
But one thing is missing – the money. The cost of the scheme has doubled to £50m since it was first announced last July.
Now the naming rights are up for grabs as the mayor tries to get his plans off the ground.
TfL says it is hunting for "commercial partners who want to invest in the scheme in return for the rights to associated commercial sponsorship opportunities, including naming rights and branding options".
The London Assembly's Liberal Democrat leader Caroline Pidgeon said the cable car was "a great idea being let down by poor financial planning and a lack of openness".
"The mayor must now come clean and state why as recently as July 2010 he was claiming the cable car would cost £25 million, but already its projected cost has doubled," she said.
"Most fundamentally the mayor must explain to Londoners why just a few months ago he was boasting that the cable car would be entirely privately funded, but now Transport for London are set to fund all the upfront costs – possibly diverting money from other important transport projects."
TfL says its costs will be recouped from "from a range of sources including the appointed commercial partner, fare revenue and sponsorship".
Planning documents submitted to Greenwich Council in January suggested users with Oyster cards would be charged £2.50 for a journey, with others charged £3.50.