Adam Bienkov | Friday 12 April, 2013 14:04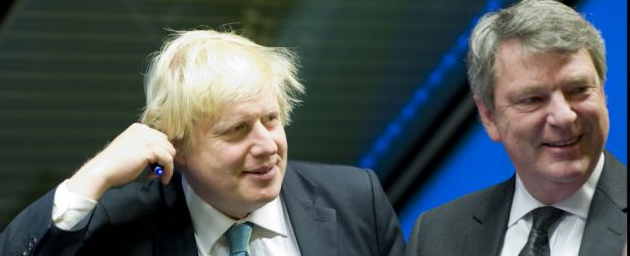 Boris Johnson has been accused of "blatant cronyism" after he invited the Conservative Party's campaign chief on an official business tour of the Middle East.
Tory campaign chief Lynton Crosby will join Johnson on visits to Qatar and the United Arab Emirates next week.
Crosby ran Johnson's previous two mayoral election campaigns and has been hired to run the Conservative Party's election campaign in 2015.
Labour today attacked the Mayor for inviting Crosby on the trip:
"Boris' choice of travelling partner is bizarre. Taking Lynton Crosby on this trip makes no sense at all. It's blatant cronyism. Crosby supposedly doesn't work for the Mayor any longer, and works as David Cameron's new election chief, his company mainly operates outside the UK. It's not clear why Crosby is going, or what's in it for him or what's in it for the Mayor."
In 2011 Boris admitted that he had obtained a City Hall security pass for Crosby allowed only for GLA staff.
The pair remain close, despite Crosby's recent appointment by David Cameron.
It is not clear what business opportunities there will be for an election strategist on a visit to two Middle East dictatorships.
However, Boris has ruled out discussing human rights whilst on the trip, telling the Evening Standard that he is against "megaphone diplomacy."
A spokesperson for the Mayor said today:
"Lynton Crosby, in his capacity as co-founder of CT Partners, is part of the 12-strong business delegation accompanying the Mayor on his trip to the Gulf. All of the business delegation, including Mr Crosby, are paying for their own flights and accommodation so no public funds are being used. CT Partners already does a lot of business in the Middle East and is seeking to develop further contracts that will benefit London and the Gulf region."
The following business people will also accompany them on their trip to the Gulf.
Philip Dilley – Chairman, Arup
Tony Pidgley – Chairman, Berkeley Group
Ian Mulcahey – Managing Director, Gensler
Rob King – Director, The Edge Picture Company
Gerry Grimstone – Chairman, Standard Life
Glen Manchester – CEO, Thunderhead
Joanna Shields - CEO, Tech City Investment Organisation
Dima Rifai – CEO, Paradigm Change Capital Partners
Rafic Said – Senior Managing Director, The Blackstone Group
Bob Wigley – Chairman, Hibu
David Thomson – Managing Director, Wembley Division, The FA Group
During the last election campaign Boris Johnson attacked plans by Ken Livingstone to go on a world tour to drum up investment for London, saying that "Londoners want a Mayor for London, not a Mayor for the world."
Since his re-election Boris has visited India, New York and France and plans future trips to Brazil and China.
---