Adam Bienkov | Monday 5 March, 2012 12:20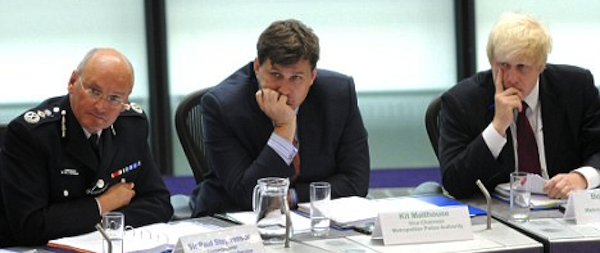 Boris Johnson's Deputy Mayor for Policing tried to interfere with the Met's hacking investigation, the former Police Commissioner has claimed.
According to Sir Paul Stephenson, Kit Malthouse repeatedly told the police they should scale back their investigation, arguing that it was driven by media "hysteria".
In his witness statement, Stephenson told the Leveson inquiry:
"On several occasions after Operation Weeting had started and I had returned from sick leave, the Chair of the MPA, Kit Malthouse, expressed a view that we should not be devoting this level of resources to the phone hacking inquiry as a consequence of a largely political and media- driven "level of hysteria".
Stephenson defended the police investigation saying that they had "little choice" but to devote the resources that they had.
Boris Johnson has also repeatedly criticised the investigations into illegal practices at News International.
In 2010 he described the phone hacking saga as
"a load of codswallop cooked up by the Labour Party" which was
"patently politically motivated" and
"a politically motivated put up job" and
"completely spurious and political" and
"a song and dance about nothing" which had been
"whipped up by the Guardian and the Labour Party."
Last week he also told ITV's Agenda programme that "the caravan should move on" over phone hacking and criticised the amount of resources being spent on the investigation.
Update: The Labour party are now calling on Kit Malthouse to resign. Chris Bryant MP said today:
This amounts to a clear political intervention designed to intimidate the Met into dropping an investigation. Considering that the investigation has thus far uncovered bribery of police officers by the Sun, mass criminality at the News of the World and a deliberate attempt to pervert the course of justice by News International, both Boris Johnson and Kit Malthouse's interventions show that they are more interested in protecting their cronies than in pursuing justice. In any other country this kind of political manipulation would be considered wholly unacceptable and corrupt. It is no longer possible for Londoners to have confidence in the Met with Kit Malthouse sitting at the top table. Kit Malthouse should either resign or Boris Johnson should be forced to sack him.
---