Adam Bienkov | Wednesday 6 April, 2011 14:58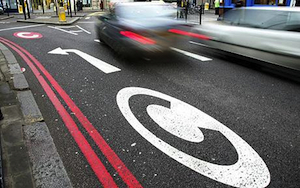 Ken Livingstone will not bring back the Western Extension of the congestion charge if re-elected as Mayor he said today.
Speaking to The Scoop after a meeting with students in Plumstead, Labour's Mayoral candidate said:
In an ideal world where money is no object I would reinstate the Western Extension but given it would cost a hundred to a hundred and fifty million to do it I think I'd much rather spend that money on front line policing and keeping the fares down. And that's the single most important thing at the moment to not do anything that takes money out of Londoners' pockets.
However, he admitted that some Londoners would have less money in their pockets if he is elected as he still plans to implement the so-called gas guzzler charge:
Oh yes the £25 charge for gas guzzlers we'll be straight back for that because we now know that at least 4000 people die a year prematurely because of our poor air quality. And we're running the risk of an EU fine and the government has a clause in the localism bill that if the EU levies the fine it will be transferred to London council tax payers.
Livingstone also came out against Boris Johnson's plans to build the Silvertown river crossing at the Greenwich peninsula and pledged that he would reinstate plans to build the Thames Gateway Bridge further East instead:
The reason we went for the bridge and not the tunnel at Silvertown is because the bridge benefits a much wider area. If you look at the impacts of a bridge versus the tunnel you're mad to do the tunnel, especially because a tunnel would be much more expensive. I'm also not sure you want to dump all that extra traffic in the area around the Greenwich Peninsula. The thing about the bridge being a bit further out is that it would be easier to cope with.
He also pledged to reinstate plans for the Crystal Palace tram extension, the DLR to Dagenham Dock and the Cross River Tram.
Asked how he would fund all of this given the huge cuts to TFL's budget and his promise to hold both fares and the Mayoral precept down he said:
If the government allows me to go to the bond markets and borrow money to build housing for rent and to build transport extensions then that's viable. I'm not expecting them to give me any money.
The Western Extension of the congestion charge was scrapped by Boris Johnson at the end of last year and City Hall estimate that they will lose around £55 million a year in revenue.
The "gas guzzler" charge was a highly controversial issue at the last Mayoral elections and The Green Party's Mayoral candidate Jenny Jones recently hit the headlines by suggesting it should go up to as much as £50.
---