Adam Bienkov | Wednesday 6 March, 2013 12:36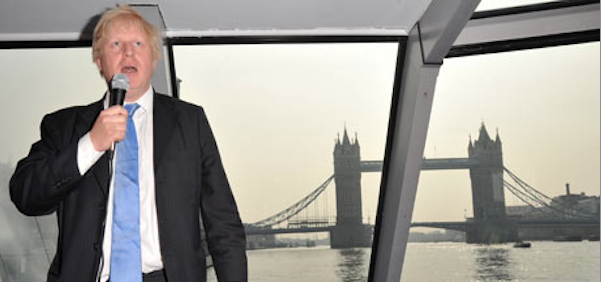 Fewer commuters are using the River Thames now than when Boris Johnson first promised a "dramatic expansion" of the service, an investigation by this blog has revealed.
In his new river action plan launched last week, the Mayor claimed that passenger journeys on the Thames had increased by 25% since he came to office.
He also claimed that there had been a continuing increase in use of the "river bus" service since he took over.
However, figures uncovered by this blog reveal that while tourist and leisure travel has risen over the past ten years, the number of commuters using the Thames has actually gone down in recent years.
TfL only subsidises the peak hour commuter service on Thames Clippers.
When Boris Johnson first unveiled his "river concordat" in 2009 there were just over two million commuter journeys on the Thames a year.
Two years ago that number dropped back below two million and has remained below that level since.
A spokesperson for TfL said today:
The River Action Plan details the actual number of passengers that use the River Bus services throughout the day whereas the Travel in London report focuses purely on peak passenger numbers. We are reviewing these reporting methods going forward to ensure they are clearer and more easy to understand.
Tourist and leisure use of the river has increased dramatically over the past ten years.
There was also a big rise in commuter journeys after Thames Clippers bought six new faster catamarans in 2007.
However, the Mayor's 'river concordat' and integration of Oyster cards in 2009 have failed to increase commuter journeys at all.
Leader of the Liberal Democrat London Assembly Group Caroline Pidgeon said today:
There is a big gap in the Mayor's rhetoric on river services and his real record so far. Having waited so long for the Mayor's river action plan it is vital that it is fully implemented as quickly as possible. More money will be needed than the £10 million allocated. However to really ensure that proper use is made of the river there are further steps that are necessary, such as putting the river services in a very clear way on the London Underground map and ensuring that commuter boats are able to use the Westminster pier owned by Transport for London.
Boris Johnson's own supporters have criticised his failure to fulfil his promises on river travel.
In an excoriating blog, his new cycling adviser Andrew Gilligan wrote in 2011 that "the river service is substantially worse now than before Boris came to office."
Boris Johnson has set a new target to double river passenger by 2020, through new piers and the use of "wave and pay" technology.
How effective that will be in increasing commuter numbers could remain unclear.
TfL plan to move to an "alternative method" of counting passenger journeys starting this year.
---