Darryl Chamberlain | Wednesday 8 June, 2011 17:24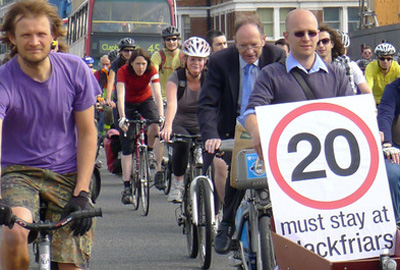 Mayor Boris Johnson's allies walked out of a London Assembly meeting this afternoon, stopping members from passing a motion condemning plans to raise the speed limit on Blackfriars Bridge.
Transport for London plans to allow traffic to move at 30mph on the bridge, despite it being a notorious accident blackspot for cyclists.
Green assembly member Jenny Jones had drafted a motion to express members' opposition to the scheme – but Conservative members walked out of the meeting rather than discuss the issue. Under assembly rules, the meeting had to come to an end after the walkout.
While the vote would not have been binding, it would have given campaigners a boost in their push to make sure TfL scraps its plans.
The walkout by Roger Evans, Gareth Bacon, Kit Malthouse, Victoria Borwick, Andrew Boff, Tony Arbour, Brian Coleman, Richard Tracey, James Cleverly and Richard Barnes came a day after the victim of a cycling accident on the bridge appealed to the mayor to rethink his plans.
Royal Society of General Practioners chair Clare Gerada, who suffered multiple fractures when she was caught between two vans, said in a video for the London Cycling Campaign.
"I tend not to use Blackfriars Bridge. I don't like it because traffic seems to be much faster on that bridge. I hate the junction. I always have to do a right to go into the City. It's a really difficult job. I wouldn't recommend any cyclist to use Blackfriars bridge at all. It is a horrible junction. I will never use Blackfriars bridge again."
TfL still plans to squeeze in an extra lane for motorists at the north end of the bridge, despite an outcry from cyclists, who held a go-slow protest there last month.
The actions of the Tory members were condemned by Labour, Lib Dem and Green opponents, and by cycling campaigners.
London Cycling Campaign chief executive Ashok Sinha said:
"We don't mind losing a fair fight by reasoned argument – that's part of debate. But it appears that some members of the London Assembly would rather make political gestures than debate the crucial issue of road danger reduction. That's bad for cycling, bad for road safety and bad for democracy."
The Cyclists In The City blog, which has led the campaign on the Blackfriars issue, said: "The Conservatives seem to have decided they don't care about London's transport policy, at least not as far as pedestrians and cyclists are concerned. They can't even be bothered to debate it."
But Conservatives were unrepentant, indicating it was part of a row over who becomes chair and deputy chair of the London Assembly, whose members earn £53,400 each year for scrutinising the capital's policies.
Andrew Boff tweeted:
Asked to elaborate further, he singled out:
Audioboo coverage of the walkout is available, but no video is available to embed here.
Instead, here's a 1991 episode of much-loved children's classic Rainbow, featuring the late Roy Skelton as Zippy, which some may feel contains a much more mature level of debate.
---