Adam Bienkov | Tuesday 26 November, 2013 11:00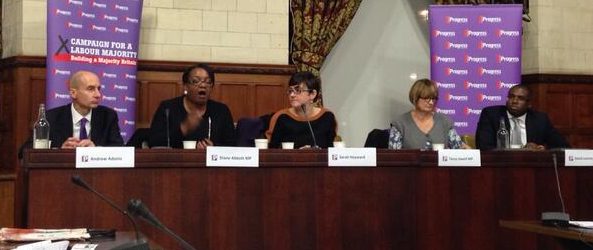 "Labour is very likely to win next time," the Guardian's Polly Toynbee told Andrew Marr on Sunday about the 2016 London Mayoral elections.
"The chances are that Labour will win," she added, going on to suggest that Labour were not only selecting a candidate, but for all intents and purposes the next London mayor.
This is a popular view in London Labour circles for reasons I find difficult to understand. So far there have been four London Mayoral elections. Labour has lost three of them.
Even the one election they did win was hardly a landslide.
When it comes to the mayoralty, London is not a Labour city. Londoners do not choose their mayoral candidates by the colour of their rosette.
When Labour built City Hall they assumed it would be held permanently in Labour hands. They assumed that whoever they selected would be basically crowned as London mayor as long as they wanted the job.
Londoners had other ideas. Ken Livingstone who Blair had blocked from Labour's candidacy, won the election on an independent ticket with 39% of the vote. Labour's candidate Frank Dobson came a poor third with just 13%.
It was only when Ken rejoined the party in 2004 that Labour won the mayoral election, with Ken on a significantly reduced majority. They have not won it again since.
Labour supporters should be worried that complacency appears to be creeping back among the party hierarchy in London, many of whom believe that a Conservative Mayor's eight years in power is an aberration that will pass as soon as Boris leaves the building.
This attitude was sadly on display last night at a meeting of potential Labour candidates for the 2016 election. The meeting had been billed as a discussion about Labour's election prospects in the general election, but everyone on the panel knew that it was really a de-facto hustings.
"Contrary to what some of the media and people placing bets on Ladbrokes may want to hear today we're here to discuss how Labour wins in London in 2015," Tessa Jowell insisted, both raising and brushing aside her place as favourite. Asked about fares later, she added: "this is not yet a mayoral debate".
Not yet no. But this did not stop other panelists from debating it anyway. Diane Abbott talked about what she would like to do "as a mayoral candidate" while David Lammy talked about what he would do "if I become mayor".
And it was this last statement that really stood out for me. Here was what Lammy would do if he "becomes" mayor. Not what he would do if he is elected as mayor, but what he would do if he becomes mayor.
We are still two and a half years away from the next London mayoral election, but many people in Labour seem to think they already have it in the bag. The London mayoral election is the most bitterly competitive election in British politics and it is an election that Labour so far has a poor record in.
For some reason the party believes they can wait until 2015 before turning their full attention to the London mayoralty. 'We mustn't do anything to distract us from the general election', is the general and mistaken consensus.
In fact it was telling that the one figure who failed to show last night – Sadiq Khan – is the person who is most likely to get a seat in a potential Miliband government. It was also telling that the only candidate to have actually declared their willingness to stand – Christian Wolmar – was left sitting in the audience.
There were some interesting moments last night. Andrew Adonis laid out a wide-ranging agenda for London on housing, infrastructure and transport. He was impressive on all, even if I didn't agree with everything he said – particularly his fervour for building lots of new road crossings in East London. Tessa Jowell also agreed with my suggestion that Labour should be encouraging more people out of cars onto public transport, but insisted that they shouldn't do so through "nasty coercion". However it stopped there. My question to Lammy on the same subject was dismissed with a simple "I've already done transport".
Overall I came away with the impression of a party that still doesn't understand why they have lost three out of four mayoral elections. Nor did I get the impression that they yet understand how they will win the fifth.
I'm told that Conservative hopes of winning the next mayoral election are pretty low. After last night's meeting they should feel a little more cheered.
---