Sailor Jerry has launched a new short film, 'Here's To Life Outside The Lines' – celebrating spirit of rebellion through an unofficial lineage of road trips, choppers and wild times.
Researchers say London is the fakest city in the world. That stat is fake. Yet, our city has had some good practise at it.
1. West Ashfield Tube Station A fully functional tube station run by TFL, excepting the tube
2. The tennis match at the end of Blow Up The scene from the Antonion's 1966 film was shot in Charlton's Maryon Park.
3. London FC, London's oldest football club The non-league team sued an older club for the rights to its history and won when the other team couldn't afford to fight it.
4. 23/24 Leinster Gardens, Paddington, London W2 These grand houses don't actually exist – it is facades covering a view of the open-air Metropolitan line from horrified W2s.
5. Lord Robert J Doughty A 19-year old from Thamesmead who bought his title online convinced Harrod's to cash his £500,000 cheques. He eventually convicted for fraud and 'driving with dangerous tyres.'
That's our list – now let's hear yours. Tullamore D.E.W. have launched their Death to Dishonesty campaign to "seek out the real and ignore the babble". Help them make room for the Irish True values of realness, friendship, wit and a bit of rebellion by heading over to www.tullamoredew.com/DeathToDishonesty.
Enter your suggestions of dishonest and fake behaviour society could do without in to the Furnace of Resurrection app, and be in with the chance to see your submission symbolically burned in a real-life furnace. Oh, and you can win a trip to Ireland, which would be pretty great.
Post sponsored by Southbank Centre
In 2007 Alex Ross wrote the seminal book The Rest Is Noise – listening to the Twentieth Century. Throughout 2013 we bring the book alive, with nearly 100 concerts, performances, films, talks and debates. We take you on a chronological journey through the most important music of the 20th century and dramatise the century's massive political and social upheavals.
Would you like to live and work in the Garden of England – surrounded by the beautiful nature, but at the same time be able to easily reach London and the continent? Would you like to have a better work/life balance, but still have a variety of career opportunities to choose from and a support of the best teaching professionals? Would you like to have the access to both: contemporary life style and famous British heritage? If so, working and living in Kent can be a perfect solution for you.
Being one of the largest local authorities in the country Kent County Council Schools are committed to innovatively attracting new, experienced and talented teachers to their 600+ schools through offering teachers the scope of challenge and rewards they are looking for. Kent Country Council Schools provide a supportive environment and a wide range of career opportunities (from energetic urban secondary schools to a more serene coastal village primary) for the employees.
This year to attract experienced teachers as new recruiters Kent County Council has decided to organise a Facebook competition to show potential employees what their life could be like (how it could be better) if they were living and working in Kent. This competition aims to encourage teachers to take a look at Kent as at a life changing opportunity, not only as an employment one. As a part of the competition entrants are invited to submit a story on what they think their life could be like if they lived in Kent, for a chance to win a weekend with all expenses paid in Kent.
The stories will be shortlisted and introduced to a public to vote for the favourite one. The story that receives the most votes will win.
This competition gives the audience a chance to visualise not just working but living in Kent and challenging people to consider and summarise what their 'ideal' lifestyle would be like and then leading them to consideration that this could be reality – by relocating to Kent and working in one of the most diverse counties in the UK, educationally and personally.
Sponsored Post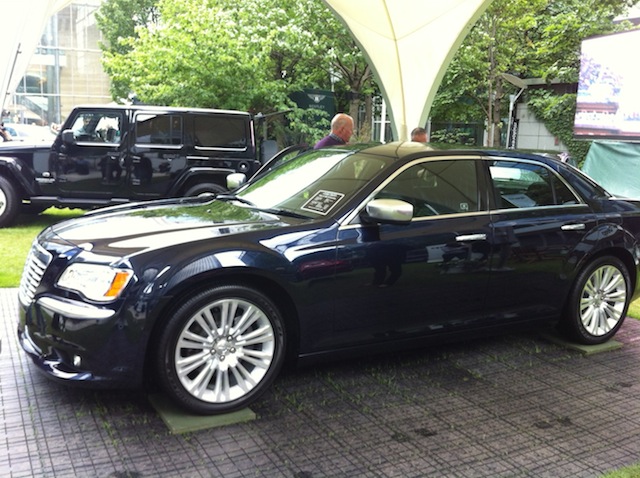 This is a sponsored post in partnership with Chrysler
The annual Canary Wharf Motorexpo is an innovative event. Rather than stuff hundreds of autos in a environment better suited to a sporting match or agricultural show, Motroexpo places most of its exhibits in its natural habitat, locating cars throughout the nooks and crannies of Canary Wharf. (Although a few beautiful vintage convertibles were sensibly indoors.)
Rather than under horrific fluorescents, the crowds can view these motors in the natural sunlight, or, as it was last Saturday, under monsoon conditions.
One of those vehicles that stood out in the rain was the 2012 Chrysler 300C. Oozing Detroit cool, the characteristic silhouette is crisp, clean and refined with the more steeply raked windscreen lending it an aerodynamic appearance in marked contrast to cookie-cutter teardrops. Marked wing lines front and rear are higher than the bonnet and boot they embrace, and emphasise the spaciousness of the passenger compartment. Combined with 20-inch aluminium wheels on the Executive, they give the car a sporty low-to-the-ground appearance. The convex doors are stylishly embellished with chrome-plated door mirrors, while the fixed window on the rear doors helps contribute to improving external visibility.
Simplicity is the rule here. Unlike many rivals which offer a baffling array of engine sizes and trim levels, the new Chrysler 300C, which will become available here in two versions, promises the perfect power output for the car, with two well-judged specifications. The new 3.0-litre V6 turbo diesel benefits from Fiat Group Automobiles' ground-breaking MultiJet 2 technology to provide a class-leading compromise between effortless power and fuel-saving efficiency.
The 2012 Chrysler 300C, which launched in the UK on 14 June, retains a unique position in the executive sector. By offering the type of engineering, design, materials and driving dynamics that European buyers expect, combined with American style, personality and value for money, the 2012 Chrysler 300C will appeal to head and heart.
Motorexpo attendees were booking Chrysler 300C test drives through the Motorexpo's central DriveMe facility, which allowed you to test drive almost any car you can see at the Expo, a real innovation. Unfortunately, the Motorexpo has now moved to Toronto – and then to New York.
But, there is a way around that. You still test drive a Chrysler 300C by clicking here. Chrysler can also be found on Facebook and Twitter.
The Nicholls & Clarke building in Shoreditch is an amazing Victorian monstrosity. It's a five-story warehouse but instead of vast empty gloom, it's a warren of brick-walled rooms, stairways to vast unseen studios, and exposed ducts and beams. Back when it was built, it was located in the Liberty of Norton Folgate, a tiny bit of territory that lay outside both the City and the borough of Shoreditch. It's a cool space.
To gain entrance to the ABSOLUT Limited Edition party, you must go go down a narrow passage way to find the door, unmarked, but guarded by the first of many boiler-suited actors. A quick pap shot by the photographer and you're inside a regular schmooze. But that's where the disorientation begins.
A chap in tails selects people at random, removing them from their conversation bouquets and hustling them through a dark door at the far end. To the people left behind (if only temporarily), that dark door is an object of dread and anticipation.
To the people who go through the door (and, don't worry, everyone did), their night became much more surreal. Alice just went through the looking glass.
Breaking up the social groups was a genius idea – not only does it heighten your senses, it creates new alliances with people you've just met.
It would be tempting to give away why that's important, but ABSOLUT is treating people in other cities to Limited Edition parties, and we've heard that they get the Internet as well, so we'll keep quiet on the details.
But we will say that the event has some wonderful payoffs. You react to a crazy situation — and 15 minutes later, you see the result of your decision in a completely different context. Quite brilliant. Another piece of advice, you will not be unrewarded by treating the hosts you meet along the way in character.
It's over for London, but ABSOLUT is having Limited Edition parties in these cities:

12 November 2010: A disused office block, Northern Quarter, Manchester
18 November 2010: psl, Whitehall Waterfront, Leeds
20 November 2010: South Pavilion, The Quartermile, Edinburgh
Also, of course, enjoy ABSOLUT responsibly!
We've been given a very special opportunity by ABSOLUT to give our readers a very special opportunity… to do something with ABSOLUT. Do what, exactly? Well, ABSOLUT is drumming up some attention for their tasty new line of Limited Edition vodka, by organising an exciting and unconventional promotion. The famous brand is teaming up with some very select artists and visionaries to create some very memorable creative collaborations, and they want our readers to participate in them! Taking place in some seriously out of the ordinary spaces—from a disused office space to an abandoned tile warehouse—you'll have the chance to explore an artist designed maze, dine at a delicious one minute restaurant, collaborate on a never-ending story, and lots more.
Here's the thing: We promise that you want to do this. If you enjoy a chance to challenge your everyday normality, experience the day to day in an exceptional new way, and flip your whole perspective on things (and of course, enjoy taste of some unique Limited Edition ABSOLUT beverages in the process) this is your chance. Each event will be an interactive, personal journey that we are 100% convinced you will enjoy, remember, and love forever.
They're only giving away a few spots, which is kinda sad. So apply now — seriously, NOW. If you get lucky enough to be selected by ABSOLUT, they're throwing in a +1 so you can share this experience with someone special.
Fortunately, ABSOLUT Limited Edition Experiences are happening all November, all over the place. No matter where you live, there should be one close enough:
4 November 2010: Nicholls & Clarke building, Shoreditch, London
11 November 2010: Bristol and Exeter House, Temple Meads, Bristol
12 November 2010: A disused office block, Northern Quarter, Manchester
18 November 2010: PSL, Whitehall Waterfront, Leeds
20 November 2010: South Pavilion, The Quartermile, Edinburgh
Also, of course, enjoy ABSOLUT responsibly!
When you think about it, banks have been met with a very sad fate in our modern society. They aren't supposed to be the economy ruining, bonus loving behemoths they've become. At their essence, they're actually a pretty great thing. They give us a safe place to keep our money, they pay us for the privilege of keeping our money safe, and they also make it easy to use out money whenever we want. And sometimes, when we need a bit of extra money to do something awesome, they let us have some for a relatively small fee. If only they'd stuck to the basics and not the bonuses, right?!
Enter First Direct, a bank that is taking banking back to its roots, and putting the emphasis back on me and you — the people keeping it in business. They seem to understand the skepticism the general public has towards their profession as of late, and, as is evidenced in the above video, they're pulling out all the stops to prove that they're a different kind of bank.
At the core of this clip, in which a crew of First Direct "buddies" shower a stranger on the street with a hilariously over-the-top birthday wish, is the message that when you do nice things for people, life is just better. You put a smile on a stranger's face, and you make their day. And really, it looks like they're doing this to some random stranger! It's no wonder they're the most recommended bank in the UK. Because if they're willing to do this for some guy on the street, you can only imagine what lengths they're willing to go for their customers.
Last week we had the distinct pleasure of being schooled in the art of beer pouring by the fine folks at Stella Artois. Something called the World Draught Masters competition is happening in a few days, so they took us to the Cookoo Club in Mayfair in order to prove that when you drink an expertly poured pint of Stella, you can tell the difference.
Apparently pouring the perfect pint of Stella happens in nine steps, which at the time seemed crazy. For us, drinking usually involves about one step — swallowing. So needless to say, we went into this outing a bit skeptical. Lo and behold, once our Master Beer Somelier Marc Stroonbandt got to teaching and pouring, our opinions changed. He mentioned Tai Chi Beer Pouring, which sounded weird and non-Belgian, but once we got past the idea that pouring beer is not simply a means to getting beer into a glass (which is basically a means to getting beer into a stomach) our eyes were opened, and the Masterclass got a lot more interesting.
We derived a pretty unfathomable amount of satisfaction from learning to pour such a good looking pint. It even made the beer taste better. Seriously! Nine steps seems like a lot, but trust us, the process is worth it. At the UK Draught Masters on the 13th of October, 20 of the UK's best bar staff will compete to enter the World Draught Masters completion in London. The World Draught Masters will see 32 countries from across the globe compete in front of 12 judges to become the World Draught Master which includes being Stella Artois's Ambassador for the coming year, taking over from the incumbent World Draught Master, Avril Maxwell.
AlunaGeorge is a London based duo consisting of electro-pop singer Aluna Francis and producer/keyboardist and former indie math-rock guitarist George Reid.
Starting a little over a year ago after meeting through the internet, and brought together by the mutual respect for each other's music work, the British duo has come a long way: from the London suburbs to the inner city, from the studio to the live venues, Aluna and George tell us about how they made it and how they reinvented themselves to become AlunaGeorge, something more than the simple sum of its parts.
And London might as well be the third element of the British act, because it's the city that allowed them to be free to express their own creativity and style allowing them to achieve a more personal approach to music. After all "reinventing is a way to give new life to something. And sometimes you find out that something that you reinvent today makes more sense than what you did in the first place", they say.
For this occasion AlunaGeorge reinvented their song My Town, an ode to London and to the infinite possibilities it gave them to become who they really are. In Aluna's own words: "While living in the suburbs I was the odd one out. In London I found out who I am, who I want to be, and how to make it happen, because this is a make or break city. If I hadn't moved to London I probably wouldn't be making music in the same way… or at all. You need the kind of environment that's conducive for writing".
Watch the video from Nike Air Max here.