Mike Pollitt | Wednesday 7 November, 2012 17:32
Adam has a post up at The Guardian reacting to yesterday's transport fare increases. He compares the news with what Mayor Johnson said he would do during the election campaign earlier this year:
"[Johnson] promised Londoners that he would "bear down on fares" this year. He went on to insist that they would "go down in an honest and sustainable way" if he was re-elected."
TfL fares are going up by an average of 4.2%, while cycle hire charges are going up 100% – to £2 a day for access, and £90 a year for membership.
The 100% cycle hire rise might sound like the bigger deal, but it is not.
For a start there are about 1m cycle hire journeys a month.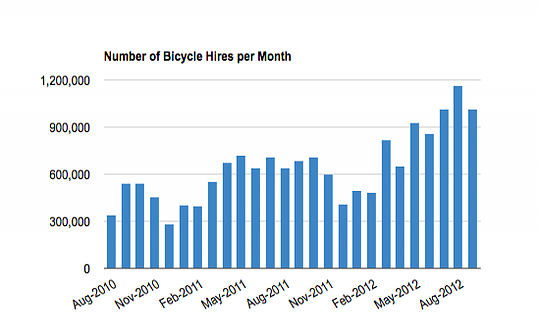 But there are about 300m bus and tube journeys.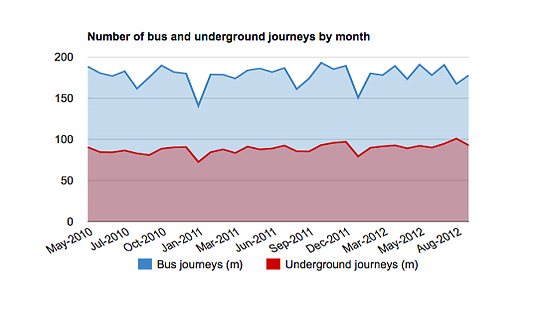 A (PDF) survey in September 2011 showed 39% of cycle hire users had a household income over £75k.
A (PDF) survey in 2008 showed bus users to be "broadly representative of Londoners in terms of income."
We need to focus on that 4.2% increase in bus and tube fares. That's what affects the overwhelming number of Londoners across the income scale.
Diamond Geezer has a good post up explaining the background
"The pay-as-you-go bus fare rises by 3.7% in January [to £1.40]. That's a whopping 56% rise since Boris came to power."
He predicts that more rises in future are inevitable if we are to properly fund the transport network.
"If London's to have a better transport network, then fares do have to rise. That'll be cold comfort if your pay's been frozen or your benefits cut, and maybe more could have been done to keep these increases down. But if we're all to get around town in the future, the annual fare rise charade will go on."
But here's the sting in the tale. According to the Mayor's announcement
"The revised changes to fares are expected to raise around £134m per year."
Against which we must set this:
Based on the figures I can find Anthony Davis is overstating the case. But half a billion on those three projects may be about right.
New bus cost (£180m to buy 600 buses, £40m p.a. for extra conductors) here.
Cablecar cost (£60m construction, plus running costs, minus £36m in sponsorship over 10 years) here.
Bike hire scheme costs (c. £225m) here
Under the current Mayor, bus and tube passengers, a broadly representative cross section of Londoners, are year on year being handed above inflation fare rises which cause their living standards to drop. Why? Well in part to secure TfL's investment plan, no doubt. But also in order to finance a cable car used by nobody, hire bikes used by the few, and overstaffed buses which many have yet to see at all.
Is this right?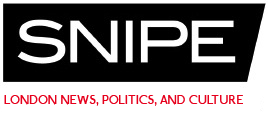 Get the latest articles from Snipe by following on Twitter and Facebook

About this writer
Mike Pollitt
Mike Pollitt is the editor of The Metropolis.
---