Alan Hindle | Saturday 11 August, 2012 16:19
During a show, three cell phones went off and the guy next to me was checking his texts. I wish I had an EMP device strapped to my back, sending out nuclear powered electromagnetic pulses to kill computer chips whenever I wanted. I'd have cancer in a week, but it would be worth it.
Dead Static
In the far future two men wake up on a disabled spaceship hurtling towards an asteroid belt and inescapable death. And almost immediately start arguing. Tyler Smith, a famous rogue ("Are you sure you've never heard of me?") and Gary Patches, one of the most likeable idiots ever upended onto a stage, have only one thing in common. They have both pissed off the all-powerful galactic fascists, The Syndicate, and they appear to have been condemned to death in the most expensive, indulgent, unnecessarily complicated, amusing way possible. There is actually one possible escape route, and our heroes do everything possible not to find it.
Cliff Chapman as Tyler and Adam Joselyn as Gary are two excellent clowns in what is not quite as existential a play as Waiting For Godot, but certainly even funnier a space comedy than Red Dwarf. If author Steve Jordan is actually aiming for a worthy TV pilot then he has one. If enough episodes could be written as brilliantly (and performed as well) then he would have the makings of a classic series.
Dead Static, rare for a Fringe play, was sold out and then some on its first night (and tonight!), so book quickly for Sunday if you want to see it before it winds up on your screen.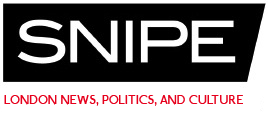 Get the latest articles from Snipe by following on Twitter and Facebook
About this writer
Alan Hindle
---