Darryl Chamberlain | Sunday 11 March, 2012 21:55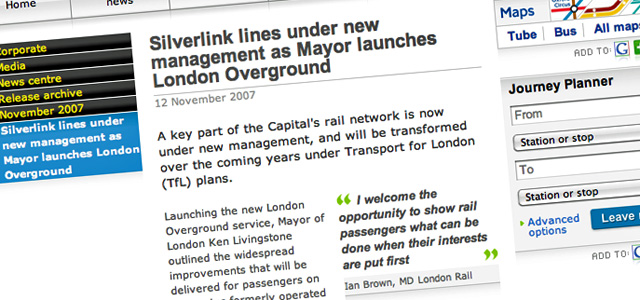 With Boris Johnson using Transport for London's mighty publicity machine to help him secure re-election, there's always been one reliable source around to help check some of his claims.
TfL's website contains eight years' worth of the organisation's press releases. That's four years under Ken Livingstone, four years under Boris Johnson. More than enough for the armchair fact-checker to work out if the mayor's living up to his promises.
But not any more. Quietly, six years of TfL press releases have been taken off the website – wiping out almost all mention of the previous mayor, and the early months of the current occupant of City Hall.
Instead, users are asked to write to TfL's press office for copies of old releases.
The deletion's a recent one, so copies are still lingering on Google's cache, while the ever-helpful Wayback Machine is there for the really dedicated.
Among the Ken-era pages deleted include his launch of London Overground in 2007, news of his 2008 fares freeze, the first double-decker hybrid bus, and Ken's map of how he hoped London's transport network would look in 2016.
You can search for yourself if you like – the headlines remain on the site, but most of the stories have gone.
It's not unusual for governing bodies to hide past adminstrations' work – all central government websites were archived when the coalition took over in May 2010.
But deleting great chunks of TfL's website altogether, just before an election? If anything, it's a reminder just how important transport is going to be – and maybe a sign of how jittery City Hall is.
Update 11.10am Monday: The deleted pages re-appeared on the TfL website on Monday breakfast time. Mayorwatch reports that TfL is blaming a "technical error".
---