London's biggest street art mural is cool. But don't pretend it's not commercial
By Mike Pollitt
Wednesday 11 April, 2012 10:33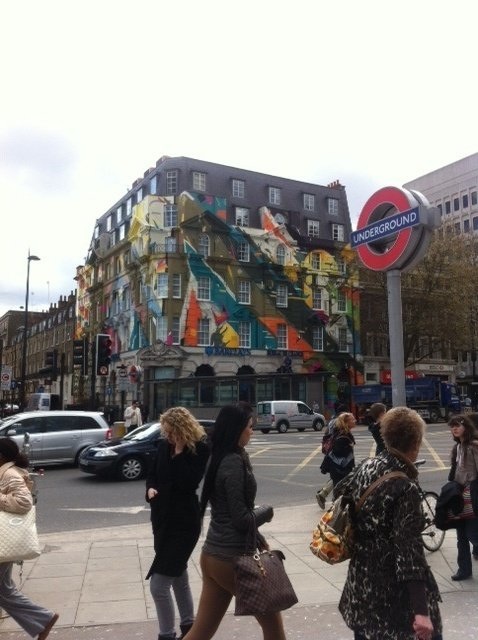 There are two eye-catching logos in this picture. One is for London Underground.
Creative Review report on London's largest mural, a just-finished 450 square metre art work adorning the Megaro hotel and Karpo restaurant opposite St Pancras station.
Remi/Rough, one of its creators, says this:
"When they [the parent company] were looking to rebrand their hotel and restaurant business last year, they saw that we had painted a hotel in Vancouver and their art direction agency, The Narrative, approached us and asked if we'd paint the building. We said yes, but made it clear that we wouldn't paint any logos – because that's completely against what we're all about."
Hang on. How are logos "completely against what you're all about"? This is a commission to rebrand a hotel/restaurant. That's great, there's absolutely nothing wrong with that. But to pretend that painting a logo on it would have been somehow offensive to artistic sensibility is a bit of a stretch.
Isn't the whole mural one big 450 square metre logo?
It's great for artists to get commissions. That's not selling out, it's earning a living. But to pretend it's no logo? That's just kidding yourself.
Creative Review – London's largest mural
---

Get the latest articles from Snipe by following on Twitter and Facebook
About this writer

Mike Pollitt
Mike Pollitt is the editor of The Metropolis.
---