Darryl Chamberlain | Tuesday 13 March, 2012 08:30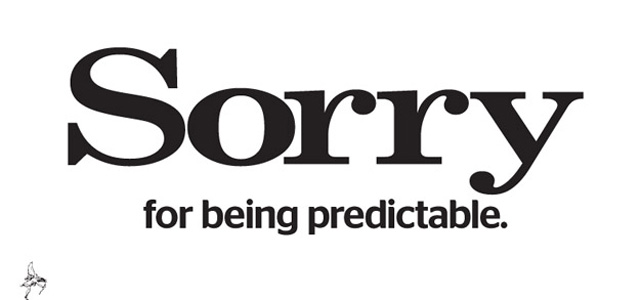 "Sorry… for being negative," the ads proclaimed.
"Sorry for losing touch. Sorry for being complacent. Sorry… for being predictable."
Remember those? It's less than three years since the tired old Evening Standard was relaunched by Russian tycoon Alexander Lebedev. Freed from the shackles of having to be a mini-Daily Mail, new editor Geordie Grieg quickly cottoned onto what Londoners had known for years – the Standard was a miserable, spiteful, dying paper, about as in touch with the capital as Country Life magazine.
The ad campaign caused a stir. His predecessor, Veronica Wadley, who used the Standard to push Boris Johnson's cause in the 2008 mayoral election, called it "humiliating".
But that relaunch – and a decision to turn the Standard into a freesheet – revived the old paper. New columnists and more upbeat features were the shot in the arm it needed.
That all seems such a long time ago, though. With Geordie Grieg, who turned the paper around, lured away to a bigger gig at the Mail on Sunday, the Standard's taking on a familiar tone once again. Predictable? Negative? Out of touch, perhaps?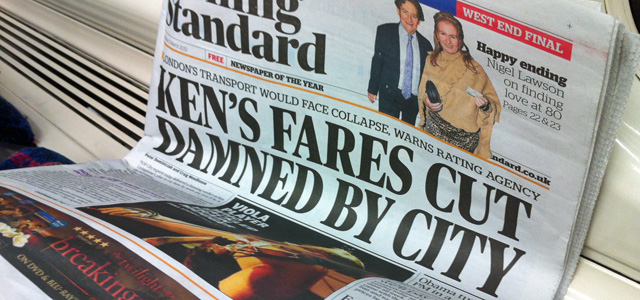 The new hand on the tiller of the Standard, for now, at least, is Sarah Sands. Her CV includes a short and unsuccessful spell in charge of the Sunday Telegraph. It also includes a notorious 2006 Daily Mail feature linking emo bands with self-harm.
More recently she was Grieg's deputy at the Standard, in charge of its features pages, although her influence has been seen throughout the paper in recent months.
"She's only interested in something if it's a trend," one journalist notes. Paying someone to walk the dog is, apparently, a trend, so gets in. Anything weightier isn't even considered.
Her columnists included "gay party animal" Richard Dennen – "I came back from the Buddhist monastery in the Himalayas I'd been holed up in for the past few weeks to the little yellow house on Westbourne Grove that I share with my flatmate" – and burlesque performer Millicent Binks, who droned on about a boyfriend called Neanderthal.
Most importantly, though, is who she counts as her friends. They include one Boris Johnson. and his sister, Rachel.
She's not shy about it, either. Quoted eight times in Sonia Purnell's biography Just Boris, she can be seen talking approvingly of his wife, Marina – "she provides humanity", she notes.
The Standard has been pretty consistently pro-Boris for some months now, with City Hall reporter Peter Dominiczak faithfully toeing the mayor's line. Now she's in the editor's chair, Sands is already starting to personally deliver for her old friend and colleague.
Last week he granted her and Dominiczak a barely-probing interview for the paper, where he wheeled out the same old lines about curbing Tube unions that he used in 2008.
And on Monday, the paper screamed about the City's disapproval of Ken Livingstone's plans to cut fares. Apparently ratings agency Moody's has only just noticed, after 12 years, that TfL operates "in a highly politicised environment".
It's no wonder that Boris's sister Rachel wants Sands to get the job full-time: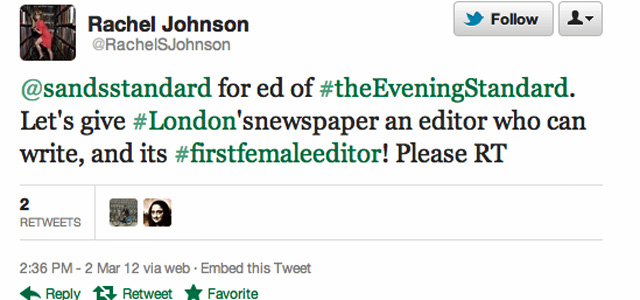 In any other major city in the world, this closeness between the mayor and its only evening newspaper would be a matter of concern. Even diary editor Sebastian Shakespeare is, yes, another old pal of the mayor.
But it's a sign of how badly the Veronica Wadley years degraded the Standard that all this just seems to come as no surprise.
Will the Standard win it for Boris once again? The paper certainly isn't as influential as it was – it's barely seen outside zone 1 these days, while in 2008 its billboards made sure it's anti-Ken message was seen by millions, even if hardly anyone bought it.
The return of its highly-respected City Hall editor Pippa Crerar could also turn the tide – last week she delivered a story about Boris's banker backers which you couldn't imagine anyone else at the Standard writing.
What happens in the race to become the Standard editor will decide. Proprietors Alexander and Evgeny Lebedev have spoken of their desire to promote a free and fair press around the world.
Will they give London a free and fair evening paper, or will they give it one run by mates of its mayor? Watch this space.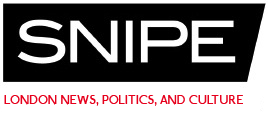 Get the latest articles from Snipe by following on Twitter and Facebook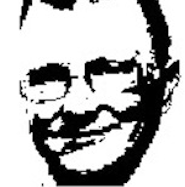 About this writer
Darryl Chamberlain
Darryl writes Greenwich's 853 Blog and contributes to the Charlton Champion.
---