Sunday 26 August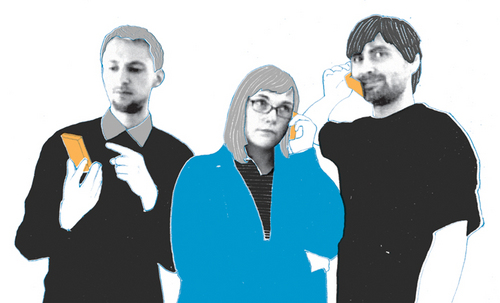 Making Faces: Calm and Collected
Once upon a time we didn't get stressed, we just shrugged at our favourite idol and stroked the soft, silky fur of the sabre-toothed tiger gnawing on us. Now we need silly, tuneless songs to cope. Making Faces are three happy idiots determined to help by providing those songs and throwing themselves into a wide assortment of odd props and box-headed/radiation-suited/rollerskatified dangers. We'll call them Smiley-scruffy, Blondie-beardy and Blondier-Non-Beardy.
Calm and Collected hits its marks slightly less than half the time, and not always solidly. However, when they get it right (with Beardy acting as the glue holding things together, Blondie Beardy getting to be the weirdo with the best lines and Non-Beardy-Blondie quietly wriggling and grinning and stealing scenes) they can be very funny indeed. Their visual gags work best, but best of all is when something goes wrong and they have to figure their way out of a technical disaster. Rather than hope the next time I see them that everything goes completely wrong, maybe they will have more material that works.
The Overcoat
A wind so cold it wears icicles whips round onion-domed St. Petersburg and straight through the thin coat of Akaky Akakievich. Tired of freezing and being the butt of his coworkers' sneers Akaky works day and night to raise the princely sum of 80 rubles for a luxurious new overcoat. His landlady, who secretly adores him, make a great sacrifice to secure him the advance needed to pay the ruthless tailor. The day it arrives his fortunes swing, and he turns his back on the only thing in his life of true value, love.
Le Mot Juste dishes up a simple and elegant version of the Overcoat with three spring-loaded performers and an equally flexible set. Sometimes the show seem a little clunky, as though the stage of the Camden People's Theatre is a couple feet too small, or they were cut cruelly short of one day's rehearsal. Most of the time, however, they flow effortlessly through their story. Scenes such as the Hunting of the Cat for Akakievich's fur-lined collar are suitably huge, hilarious grotesques and could grace any stage in the world. So, a lovely show from three charming performers- though I'm a little worried about the guy playing Akaky. He really does seem a little fragile and in need of thicker soup!
Listen
There is a strange division between types of theatre in London. Perhaps in Britain as a whole. There are the large shows, the Westend musicals and media-hyped, award-winning extravanganzas with casts chock-full of knights and dames. And… "The Fringe". Everything else. Not the shows occurring during a Fringe Festival, but anything which doesn't take place on a jutting proscenium stage. Elsewhere these shows would be referred to as "small scale" theatre, but even that doesn't really describe them. Because small shows with smaller budgets still attempt huge themes, bold visions, radical techniques. In fact, sometimes it seems they are the only ones that do.
Listen, from Miller Theatre Productions, is a gentle, lyrical play that movingly explores in dips and daubs the life of a man. Not a heroic figure, struggling against overwhelming odds. Just a normal guy trying to raise a son and grow old, flirting goodnaturedly with his nurse, whiling away his last days without his cheeky wife. It's not linear, frequently flashing back and forth through characters' lives, nor always clear. It's impressionistic at times, moving now into dance, now mime-show, guitar solo, kitchen sink dramedy. Sometimes naturalistic and funny, sometimes fractured and lost. With excellent performances, a jumbled yet touching and believable script, Listen is something you don't see much in theatre anymore, or in life. Genuine tenderness for a dad. Sweet.
comments powered by
News & Views from City Hall to your Town Hall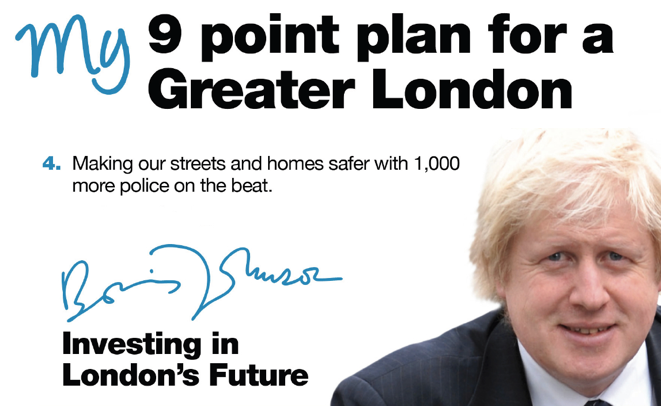 Boris Johnson breaks promise for 1000 more police officers
A brand-new song-of-the-day, every weekday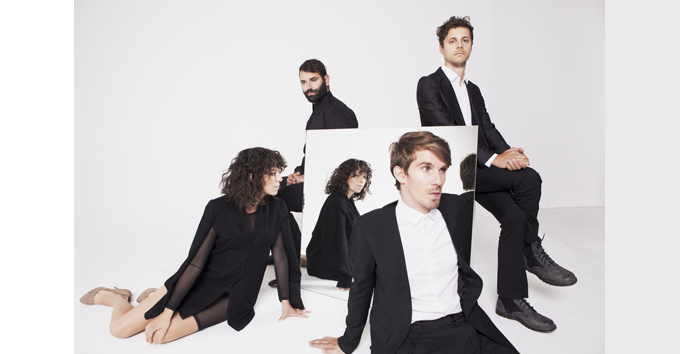 A London video every week day.
Lies the London Underground tells you
Video LDN is the daily video of London. Please give us your suggestions here.
Tube Updates