Rebecca Sear | Tuesday 20 September, 2011 10:00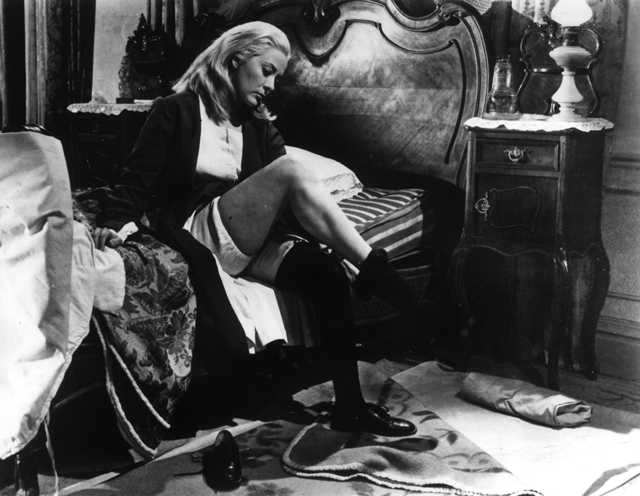 Situated on the corner of Pentonville street near King's Cross St. Pancras, there lies a monument dedicated to the less than savoury side of London's independent film scene.
The Scala is, in modern times, a club playing host to the likes of the Libertines, Coldplay and the Foo Fighters etc.; arguably the dirtiest thing to happen within the walls in recent years (if you ignore Chris Martin) are the Eurovision Song Contest promotional events, or possibly an Avril Lavigne concert. Older readers, however, may remember the Scala during the 70s as a palace of sleaze, with a programme of adult films and B-Movies. Scala Forever is a season of films (which began on August 13th and runs to October 2nd) taking place across 27 different London cinemas and is celebrating the variety of independent and art-house films shown at the unconventional picture house throughout the decades.
The Scala's various rebirths are as eclectic as the films and musicians it has created a platform for. By no means a place purely to see an obscure horror movie, it was used at one time to manufacture aeroplane parts during WW1, before being damaged by the Blitz and forced to close. Producer, director and onetime manager of the cinema, Stephen Wooley, explained the difficulty in pigeon-holeing The Scala when it was recreated for the Vintage Goodwood Festival in 2010. Speaking to the Guardian, he remarked 'The Scala was a chameleon, sometimes uncut and controversial, occasionally politically incorrect, but also now and then Cary, Fred and Gingerish.' Scala Forever, organised by the folk at the Roxy Bar and Screen (where many of the screenings are taking place) have put together a programme which reflects the zeitgeist of Scala's heyday whilst celebrating all that's great about independent cinema in London: the decision to show Fantastic Mr. Fox the day before a Zombie-a-thon commencing with Zombie Flesh Eaters is both bizarre and brilliant in equal measure.
The programme is deliciously broad, and if you think Scala Forever isn't your cup of tea then it'll damn well sit you down and make you a moccichino instead. If slasher flicks and hammy 70s horror don't do it for you, then there's classics aplenty, such as a screening of Stanley Kubrick's (formerly) banned dystopian A Clockwork Orange on the closing night. For film enthusiasts amongst you (or if you just want a break from Zombie marathons) organisers have laid on special events, such as the free I WANT TO START A FILM CLUB at The Roxy which is essentially a workshop in how to turn your late night back-to-back horror habit into something resembling an occupation.
Here's some highlights you won't want to miss:
Scala Forever presents I

WANT

TO

START

A

FILM

CLUB

, 3rd September, The Roxy Bar and Screen, Borough
The Roxy hosts a free day of discussions and workshops on how to start your own film club/cinema in collaboration with Midnight Movies) and Cigarette Burn Cinema. This is a great chance to get guidance on the essentials, such as finding funding for your project and creating an audience base. The ideal way to pay tribute to places like the Scala, whilst keeping the spirit of independent film from being destroyed by the dreaded Ciniplex. Shudder.
Scala Day, 17th September, The Cinema Museum, Kennington
This porthole into the days before big chain cinemas will host a day of special events celebrating all things Scala. A chance to see Baig Clifford's 30 minute documentary on the Scala, before a panel discussion takes place featuring former Scala staff Jane Giles and Stephen Woolley (tbc). There's a chance to explore some of the memorabilia, such as former Scala programmes, before back-to-back screenings of the dark John Waters comedy Pink Flamingos before the 1935 classic Bride of Frankenstein, directed by John Whale.
Theatre of Blood (also showing with Viridiana) 18th September, the Tricycle in Kilburn
The Tricycle Cinema in Kilburn provides the perfect intimate setting for this gore-tastic double screening. First up, Theatre of Blood stars the master of terror Vincent Price as a embittered Shakespearian actor seeking revenge upon serpent-tongued critics. Melodramatic killings camply played out in pools of fake blood are all good fun, but do little to detract from Price's genre-defining deliverance of recitations from Shakespeare dialogue, thus making this his greatest work. Just don't stray from Kilburn High Road down any unlit backwaters on the way home…
A Clockwork Orange, 2nd October, The Roxy Bar and Screen, Borough
Probably one of the most controversial films ever made, Stanley Kubrick's adaptation of Anthony Burgess' 1962 novella is the crowning glory of Scala Forever. Alex is a teenage ruffian and evident sociopath whose days are peppered with unprovoked brutal assaultsand lolling around drinking what is essentially drugged milkshake whilst anticipating their next spurt of 'ultra-violence'. A powerful social commentary on state control versus individual will, the film is infamous for its explicit sexual imagery and the protagonist's reckless sadism. The book lends itself well to the screen, and Kubrick's particular styling and direction makes virtually every scene iconic. You've probably seen it before, but this is one very important film which demands a theatre setting.
SCALA HISTORY
Kubrick famously banned his own work when A Clockwork Orange encouraged several copy-cat killings and assaults. Recognising the importance of the film as a piece of cinema history, Scala was bankrupted fighting for the right to show the film during the early 90s and forced to close. On a more depressing note, the basement where the record store scene was filmed now holds a McDonald's on the King's Road.
In 1972. Scala hosted a legendary gig by Iggy and the Stooges , who were in London recording their album Raw Power. Photos taken during this gig were used for the album sleeve, including the famous cover shot.
Shortly after opening at the end of the 1920s the cinema came under control of Gaumont British Pictures. The cinema was known for its generous Christmas extravaganzas for young children, but sadly was damaged during the Blitz and forced to close. It opened again in 1952, and for a period some 10 years later became a—shock horror!—Odeon cinema showing mainstream films until 1970, before embarking upon more seedy pursuits when it ventured into the world of adult cinema.
Follow this writer on Twitter at @beckygrace
---