Adam Bienkov | Friday 27 May, 2011 08:56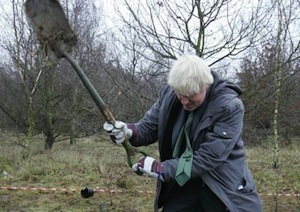 The Government are reconsidering their plans to devolve management of London's Royal Parks to The Mayor of London.
Boris Johnson had announced earlier this year that he would be given full funding for the parks and control of a board that would take care of their "day to day management."
However, a spokesperson for the Department of Culture Media and Sport told The Scoop that the details of these new powers were now being reconsidered.
A spokesperson for DCMS said:
The government remains committed to transferring more responsibility for the eight Royal Parks to the Greater London Authority and to ensure that Londoners have a voice in how they are managed… The reason that this is a current issue is that we previously believed that the transfer of responsibility could best be achieved through amendments to the Localism Bill. We now believe that it can be done more effectively through other means (not including Primary legislation).
When pressed, they refused to confirm that full funding, bye-law making powers and management of a Royal Parks board would still be transferred, as originally set out. saying that they were still considering "various options" to give the Mayor a "significant role."
Last year the Mayor warned the government that he did not want to be given powers over the parks without full funding, saying "we don't want them without the money… This can't be budget dumping on the people of London. We will have to watch that very carefully."
The government have also raised concerns about a newly empowered Mayor "commercialising" the parks.
The Culture Minister will make a written statement on their decision after the Parliamentary recess.
Update: The Richmond Times reports that the Government will now retain overall control of and funding for the Parks
---