Adam Bienkov | Tuesday 5 July, 2011 10:17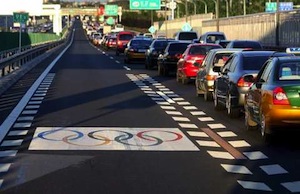 Ken Livingstone has called on Boris Johnson to reverse his plans to remove dozens of pedestrian crossings during the Olympics, claiming that it will risk lives.
TfL are consulting on plans to close over 50 pedestrian crossings as part of the Olympic Route Network.
The crossings will be removed in order to minimise the time it takes for competitors, officials and sponsors to travel between events.
As part of the plans many parking bays, and rights of way will also be removed.
Speaking to The Scoop during a campaign visit to Southwark on Monday, Ken Livingstone said: "A pedestrian crossing is just a 20-40 second stop. The idea that you might have a child killed just so that Olympic officials can get there a minute quicker is not acceptable."
He said that the current plans risked turning roads on the route into "motorways" which pedestrians will be unable to cross.
Livingstone also joined calls for taxi drivers to be allowed into the Olympic lanes, saying that they risked losing trade during the games.
Under current plans, any non-emergency vehicles that are not part of the "games family" could be fined £200 if they enter the lanes, with even cyclists not exempt.
In a letter to the Mayor this week, Ken writes that:
Taxi and private hire drivers may face long delays and loss of custom. There's too little information about the likely changes to traffic signals, the congestion impacts these will cause throughout London and how these will be managed…
I have not met many cab drivers who think this is going to be great news for their trade.
A spokesperson for Transport for London said today that the number of pedestrian crossings marked for closure was "significantly less than was originally set out" and claimed that pedestrians would not have to walk for longer than three minutes to find an alternative crossing.
They said that decisions about who is allowed into Olympic lanes will be taken by the games organisers, but insisted that the impact on the taxi trade would be "minimal".
---