Adam Bienkov | Friday 13 July, 2012 15:27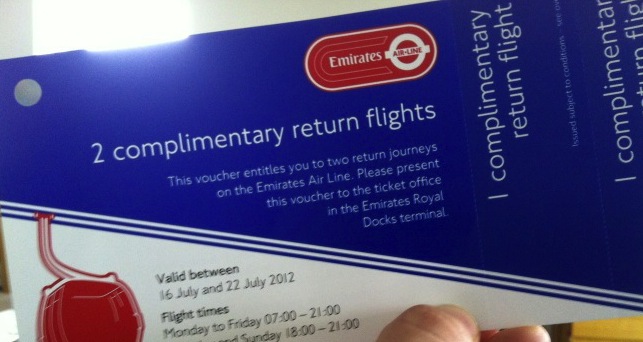 Transport for London has sent out 2500 free tickets for the new Thames cable car to local residents in Greenwich and Newham boroughs.
The initiative follows anecdotal reports that relatively few people are using the new service during weekdays, despite very busy periods during the opening weekends.
Two batches of tickets were sent out to local people to be used between 9th and 15th July and the 16th and 22nd July.
TfL claim that the tickets are intended to thank local people for their "patience."
Head of Emirates Air Line, Danny Price told The Scoop:
"A limited number of local residents in both Newham and Greenwich have been sent two free return tickets to fly on the Emirates Air Line. Throughout construction we had been communicating with these residents and wanted to offer them the opportunity to experience the Emirates Air Line for themselves and thank them for their patience during the building phase. We are pleased with the response so far to London's newest mode of transport which in the first two weeks since opening has already seen more than 130,000 passengers take a flight across the Thames."
This last figure suggests that the cable car, which cost £60 million to build, is currently carrying roughly the same number of passengers as an average London bus route.
See also:
Details of cable car ticket prices can be found at the TfL website.
---