Adam Bienkov | Monday 9 July, 2012 16:53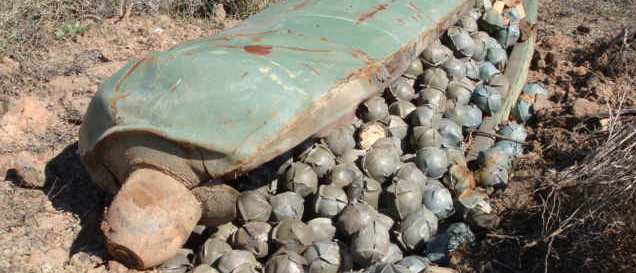 Transport for London were slammed today for accepting advertisements for a controversial manufacturer of "cluster bombs".
Arms manufacturers Lockheed Martin have been blacklisted by a number of banks and businesses for their continued production of the devices.
Cluster bombs, which are banned by the UK government, are known for disproportionately killing and injuring civilians.
Campaigners today urged Transport for London to reconsider the advertising deal with the company.
Director of Handicap International UK Aleema Shivji told The Scoop:
"As long as cluster bombs continue to be produced, they will continue to kill and maim innocent people, with civilians representing a staggering 98% of recorded casualties. Handicap International teams witness the terrible impact of cluster bombs every day and meet victims unable to access the support they need to rebuild their lives. We are therefore saddened to see that TFL is earning advertising money from a company that makes cluster bombs, particularly when the UK banned these weapons in 2008 by signing the Convention on Cluster Munitions."
London mayor Boris Johnson intervened during the election campaign to prevent adverts for "gay conversion" from appearing on the transport network.
He was also heavily criticised after TfL accepted New Years' Eve sponsorship from payday loan company Wonga.com.
Liberal Democrat London Assembly Member Caroline Pidgeon said today:
"This sends out the wrong message as to the type of business that London welcomes and the Mayor should instruct TfL to cancel Lockheed Martin's bookings of ad space on London's transport network."
Green Party London Assembly Member Darren Johnson added:
"The tube is no place for advertising arms manufacturers."
Transport for London today defended the advertising deal with Lockheed Martin. A spokesperson said:
"All adverts proposed for display on London's transport network are considered by the relevant advertising contractor in relation to compliance with TfL's advertising policy and the Advertising Standard Authority's (ASA) Committee of Advertising Practice (CAP) Code. Lockheed Martin is a legitimate company and as such is entitled to purchase advertising on public transport from TfL's advertising contractors."
---