Adam Bienkov | Wednesday 15 May, 2013 16:51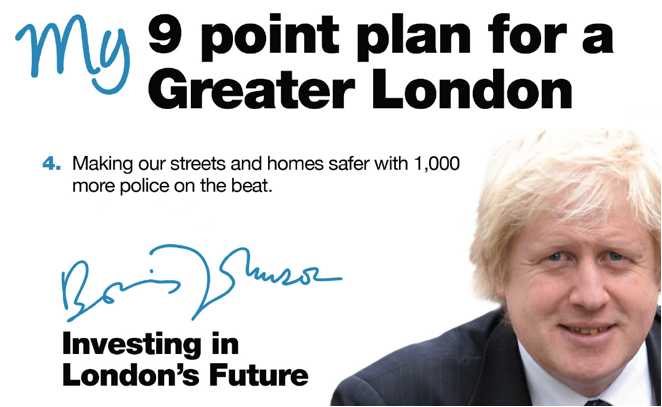 Boris Johnson has broken his promise to put "1000 more police on the beat" new figures have revealed.
The Mayor promised to "[make] our streets and homes safer with 1000 more police on the beat" as part of his nine point plan for London.
The pledge was sent to every household in London, last year.
However, the latest Metropolitan Police figures show that officer numbers have actually fallen by over 1500 since his election last May.
Overall, police officer numbers have been cut by around 3000 since 2010.
Johnson has already admitted that police officers will not increase by 1000 by the end of his term
Last year he told the Assembly that interpreting his promise for "1000 more police on the beat" as a promise for 1000 more police on the beat was a "wilful misconstruction."
Labour's London Assembly Police and Crime spokesperson, Joanne McCartney said today: "These latest figures are deeply concerning. Not only have we lost nearly 3,000 police officers in London since May 2010, but the vast majority – 2,700 – have been lost from borough police teams. Hollowing out the frontline like this cannot continue. This week we learned that the government and Mayor are considering buying water cannons to use on our streets. It looks like the Met are under real strain, without enough police officers."
Earlier this week City Hall tried to scotch reports that the Met Police had ordered two new water cannon.
The police have since been pictured training with the machines in Hampshire.
---