Adam Bienkov | Thursday 22 November, 2012 17:41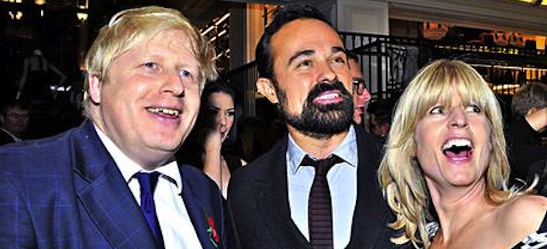 Boris Johnson was flown out to Italy for two nights last month by the owner of the Evening Standard, new records reveal.
The mayor was gifted two return flights to Perugia, Italy and two nights luxury accommodation by the Russian oligarch Evgeny Lebedev.
Umbria is a favourite holiday retreat of Lebedev.
Boris's return home was also paid for by the newspaper with current editor and close family friend Sarah Sands picking up the taxi bill from the airport.
Sands was appointed to the job by Lebedev after a personal intervention from Johnson.
Lebedev and Boris are known to be close. Asked about Evgeny last year, he replied
"I am proud to call him a friend and a Londoner," gushes London's mayor, Boris Johnson… "This great city of ours would be a lot poorer without him"
Lebedev also described Boris as a friend during his appearance at the Leveson Inquiry. Writing about a recent social occasion he remarked that:
"I was at one stage made the filling of a Johnson sandwich, with Boris on one side and Rachel — his writer sister — on the other. You can never get enough Johnsons, I suppose."
Former Evening Standard editor Veronica Wadley also remains close to Boris. Recently he gave her a £95k position at City Hall. No other candidates were interviewed for the job.
A spokesperson for the Mayor said that his Umbrian trip was an opportunity for Boris to "relentlessly promote his vision."
Something the Evening Standard was also keen to do at the last two elections.
City Hall told us:
"The Mayor was in Perugia in a private capacity, at the invitation of Mr Lebedev. He used the invitation as an opportunity to relentlessly promote his vision for London, as he has done on many other occasions with many other media proprietors and editors over many years."
Earlier this week Boris Johnson spoke out against state regulation of the British press, saying that their "feral fearlessness and ferocity ensures that we have one of the cleanest systems of government anywhere in the world."
There are many words that you could use to describe the Evening Standard's treatment of Boris Johnson over the years.
Feral and fearless aren't two of them.
---